The A. Wade Smith and Elsie Moore Memorial Lecture on Race Relations is the only endowed lecture at any college or university with a rich over-20-year history featuring renowned scholarly experts on race relations.
The lecture was established in 1995 to perpetuate Wade's tireless efforts to improve race relations across Arizona State University campuses and within the greater community.
With the passing of Wade's spouse, Elsie Moore, who founded the lecture and was director and professor in the School of Social Transformation, we have renamed the lecture in her honor, as the A. Wade Smith and Elsie Moore Memorial Lecture on Race Relations.
Elsie was a beloved faculty member and pioneer in diversity, equity and inclusion. Her vast body of research addressed inequities in educational settings and ensured justice and equality for students of color. Both Wade and Elsie devoted their lives to the idea of racial parity. Today we continue that work by honoring their legacy.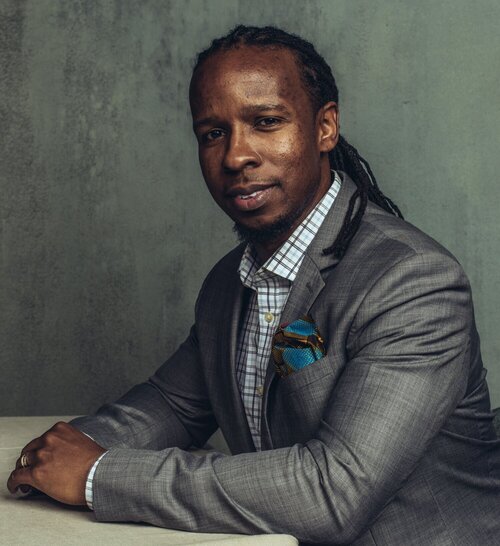 Ibram X. Kendi
2023 featured speaker
This event has passed. Stay tuned for details on our next featured speaker for the A. Wade Smith and Elsie Moore Memorial Lecture on Race Relations.
About the speaker
Ibram X. Kendi is the Andrew W. Mellon Professor in the Humanities at Boston University, and the founding director of the Boston University Center for Antiracist Research. He is a contributing writer at The Atlantic and a CBS News racial justice contributor.
Kendi is the author of many highly acclaimed books including "Stamped from the Beginning: The Definitive History of Racist Ideas in America," which won the National Book Award for Nonfiction, making him the youngest author to win that award. He had also produced five #1 New York Times bestsellers, including "How to Be an Antiracist"; "Stamped: Racism, Antiracism, and You," co-authored with Jason Reynolds; and "Antiracist Baby," illustrated by Ashley Lukashevsky. In 2020, Time magazine named Kendi one of the 100 Most Influential People in the world. He was awarded a 2021 MacArthur Fellowship, popularly known as the Genius Grant. His latest two books were the instant New York Times bestsellers, "How to Raise an Antiracist" and the picture book, "Goodnight Racism."
About the event
This event is free and open to the public but registration is required. The Clear Bag Policy will be strictly enforced and all bags are subject to search prior to entering the venue.
Past featured speakers
2023 | Ibram X. Kendi, Andrew W. Mellon Professor in the Humanities at Boston University and the founding director of the Boston University Center for Antiracist Research, spoke on a range of topics relating to race in America, including institutionalized racism, politics and what it will take to make meaningful change.
2020 | April Ryan, White House correspondent and CNN political analyst, has a unique vantage point as the only black female reporter covering urban issues from the White House – a position she has held since the Clinton era.
2018 | Isabel Wilkerson, journalist and author of The Warmth of Other Suns: The Epic Story of America's Great Migration. Wilkerson won the Pulitzer Prize for her work as Chicago Bureau Chief of The New York Times in 1994, making her the first black woman in the history of American journalism to win a Pulitzer Prize and the first African American to win for individual reporting.
2017 | Dr. Aldon Morris, the Leon Forrest Professor of Sociology and African American Studies at Northwestern University, spoke about scholarship and activism while focusing on the lessons of W. E. B. Du Bois.
2016 | Dr. Eddie S. Glaude Jr., the William S. Tod Professor of Religion and African American Studies at Princeton University, offered a critical and insightful view on the problems currently facing black America at the 21st annual A. Wade Smith Memorial Lecture on Race Relations. Glaude is widely regarded as one of the most important black intellectuals in the United States.

2015 | Dr. Walter R. Allen, distinguished professor of education and sociology at UCLA, discussed the policing of African-American men on college campuses at the 20th annual A. Wade Smith Memorial Lecture on Race Relations. Allen earned his doctorate and master's degree from the University of Chicago in sociology and his bachelor's degree in sociology at Beloit College in Wisconsin. Allen has done extensive research on higher education, race and ethnicity, family patterns, social inequality and the African diaspora.

2014 | Lani Guinier, civil rights attorney and first tenured African-American woman professor at Harvard. Lani Guinier, the Bennett Boskey Professor of Law, became the first African-American female tenured professor at Harvard Law School when she joined the faculty there in 1998. She was on the faculty of the University of Pennsylvania Law School for 10 years before coming to Harvard. She has used her public platform to write five books, including her most recent book "The Miner's Canary," co-authored with Gerald Torres. She co-founded the Racetalks Initiative, a research and public education project that seeks to develop new interdisciplinary paradigms for linking racial and gender justice to the project of building more inclusive institutions.
2013 | Danny Glover, actor, producer and humanitarian Danny Glover has been a commanding presence on screen, stage and television for more than 25 years. As an actor, his film credits range from the blockbuster "Lethal Weapon" franchise, the critically-acclaimed "Dreamgirls," "The Color Purple" and the futuristic "2012" to smaller independent features, some of which Glover has produced.
2012 | Tim Wise, leading anti-racist writer, educator and activist; authored five books; received the 2001 British Diversity Award for best feature essay on race issues; provides anti-racism training and education world-wide. Wise's writings have appeared in dozens of popular, professional and scholarly journals.
Topic: "Race Relations" (April 17, 2012)
2011 | Walter Mosley, best known for Devil in a Blue Dress and other popular mysteries featuring detective Easy Rawlins; one of the most powerful and prolific writers working today in any genre; author of more than 35 books, ranging from the crime novel to literary fiction, nonfiction, political essay, young adult and science fiction.
Topic: "The Only True Race is the Human Race" (April 5, 2011)
2010 | Dr. Kimberlé Crenshaw, Professor of law at UCLA and Columbia University, co-founder of the African American Policy Forum and leading authority in the area of civil rights, Black feminist theory, and race, racism, and the law.
Topic: "Educating All Our Children: A Constitutional Perspective" (April 8, 2010)
2009 | Dr. Julianne Malveaux, President, Bennett College for Women, renowned writer, commentator and economist
Topic: "Unfinished Business: Immigration's Economic Impact on America" (March 30, 2009)
2008 | Leonard Pitts, Jr., Pulitzer prize winning columnist, The Miami Herald
Topic: "Race, Politics, and The Drama of Obama" (April 7, 2008)
2007 | Darlene Clark Hine, Board of Trustees Professor of African American Studies, professor of history and inaugural director of the Center for African American History at Northwestern University; John A. Hannah Distinguished Adjunct Professor of History, Michigan State University
Topic: "From Respectability to Respect: Black Women's Civic Culture and Consciousness in Jim Crow America" (March 22, 2007)
2006 | Robin Kelley, William B. Ransford Professor of Cultural and Historical Studies, Columbia University
Topic: "Another Reconstruction: Debating Reparations and Race in Post-Katrina America" (March 23, 2006)
2005 | Christopher Edley, Jr., dean of the Boalt Hall School of Law, University of California, Berkeley
Topic: "Race, Policy and the Political Process" (April 19, 2005)
2004 | Ray Suarez, senior correspondent for "The NewsHour with Jim Lehrer"
Topic: "The Changing Face of America" (April 5, 2004)
2003 | Johnnetta Cole, president of Bennett College and Emory University professor emerita as a Presidential Distinguished Professor
Topic: Affirmative Action (March 27, 2003)
2002 | Mary Frances Berry, Chair of the U.S. Civil Rights Commission and the Geraldine R. Segal Professor of American Social Thought, University of Pennsylvania
Topic: "Race Relations in America" (April 22, 2002)
2001 | Michael Eric Dyson, Ida B. Wells Barnett University Professor, DePaul University
Topic: "Race Rules" (April 23, 2001)
2000 | Roger Wilkins, Clarence J. Robinson Professor of History and American Culture, George Mason University
Topic: "Building Humane Communities: A Project Spanning the Centuries" (April 5, 2000)
1999 | Henry Louis Gates Jr., chair, Afro-American Studies Department, Harvard University
Topic: "Race and Class in America" (April 30, 1999)
1998 | Morris Dees, civil rights lawyer and co-founder of the Southern Poverty Law Center
Topic: "Teaching Tolerance" (February 11, 1998)
1996 | William Julius Wilson, Director, Center for the Study of Urban Inequality, University of Chicago
Topic: "The New Urban Poverty and Retreat From Public Policy"
1995 | Cornel West, Professor, Harvard University
Topic: "Race Matters"
Past award recipients
The A. Wade Smith and Elsie Moore Community Award for the Advancement of Race Relations was created in 2005 and is given to an individual who demonstrates a passion for race relations and a concern for building a better world and who works in the community to advance race relations in Arizona.
2022 Richard Richardson
2020 Elsie Moore
2019 Corey Woods
2017 Rufus Glasper
2016 The Hon. Cecil B. Patterson
2015 The Hon. Leah N. Landrum Taylor
2014 Lincoln J. Ragsdale, Sr.
2013 J. Eugene Grigsby, Jr.
2012 Don Logan
2010 Gene Blue
2009 David Hemphill
2008 Doris Marshall
2007 Raner C. Collins
2006 Betty and Jean Fairfax
2005 Elsie Moore