The Jonathan and Maxine Marshall Distinguished Lecture Series brings nationally known scholars concerned with promoting culture through the humanities and a better understanding of the problems of democracy to Arizona State University.
This annual free public lecture is funded with a gift from Jonathan and Maxine Marshall.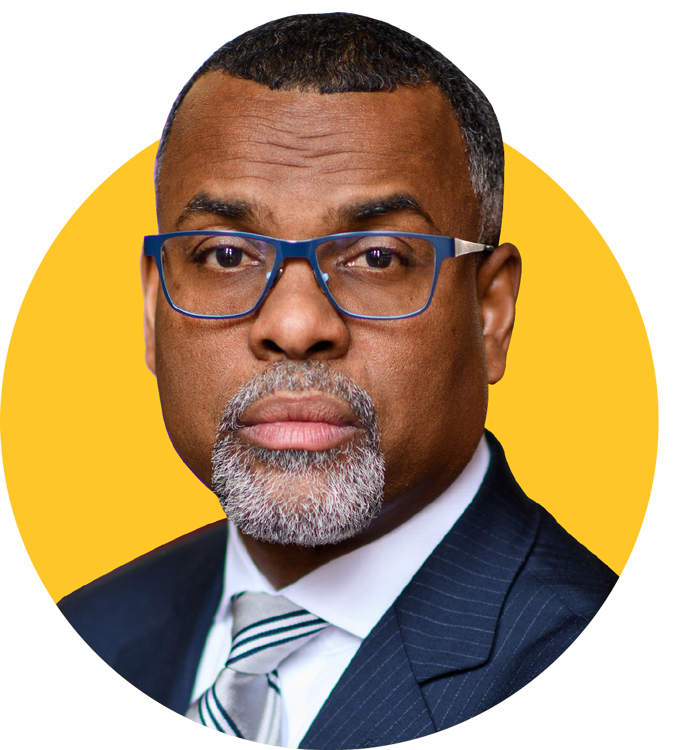 An Evening with Eddie Glaude Jr.
2023 featured speaker
Tuesday, Oct. 17 at 7 p.m. | Roskind Great Hall (ARM 101)
About the speaker
Glaude is a passionate educator, author and political commentator. He has authored a number of books on Black communities, the difficulties of race in the United States and the challenges we face as a democracy. He has also written award-winning books on religion and philosophy. He is the James S. McDonnell Distinguished University Professor and Chair of the Department of African American Studies at Princeton University and a contributor on programs like Morning Joe and Deadline: White House with Nicolle Wallace. He also regularly appears on Meet the Press on Sundays and is a columnist for TIME Magazine.
Parking information
Visitor parking is available in several lots and parking garages near the venue. All parking fees are the responsibility of event attendees. For a list of parking locations and associated fees, please visit cfo.asu.edu/daily-and-hourly.
Past featured speakers
Year
Lecturer
Title
2022
Rita Dove
American poet and essayist
2021
Clint Smith III
#1 New York Times bestselling author
2020

Colson Whitehead

American novelist
2018
Claudia Rankine
Award-winning author
2017
Roger Cohen
Journalist and author
2016
Amy Goodman
Host and executive producer of Democracy Now!
2015
Jane Smiley
Pulitzer Prize-winning novelist, essayist and biographer
2014
Charles Blow
Visual op-ed columnist for The New York Times
2013
David Walsh
Chief sports writer of the British newspaper The Sunday Times
2012
Russ Feingold
Former senator, public speaker, educator.
2011
Nikki Giovanni
World-renowned poet, activist and educator
2010
Kerry Kennedy
International human rights advocate and author
2009
Heather Rae
Award-winning Cherokee film director and producer
2008
Calvin Trillin
Humorist, journalist and author
2007
Robin Wright
Acclaimed journalist
2006
Jon Meacham
Managing Editor of Newsweek
2005
Seymour Hersh
Pulitzer Prize-winning journalist
2004
Paul Krugman
Professor, Economist, Author and New York Times Columnist
2003-cancelled
Wendy Wasserstein
Playwright
2002
Robert F. Kennedy, Jr.
Senior attorney, Natural Resources Defense Council
2001-cancelled
Martha Nussbaum
Ernst Freund Distinguished Service Professor of Law and Ethics, University of Chicago
2000
Baruch Blumberg
Director, NASA's Astrobiology Institute
1998
Martin Marty
Director, Public Religion Project, University of Chicago School of Divinity
1997
Daniel Goldhagen
Author, "Hitler's Willing Executioners: Ordinary Germans and the Holocaust"
1997
Arthur Caplan
Director, Center of Bioethics, University of Pennsylvania
President, American Association of Bioethics
1996
Doris Kearns Goodwin
Pulitzer Prize winning historian
1995
Lester Brown
Founder, WorldWatch Institute
1994
Thomas Wicker
Former editorial columnist, The New York Times
1993
Arthur Schlesinger, Jr.
Pulitzer Prize winning historian