Alumni Occupation
Attorney at Perkins Coie LLP
Alumni Degree
BA in political science, BA in Spanish, BS in economics
Alumni Photo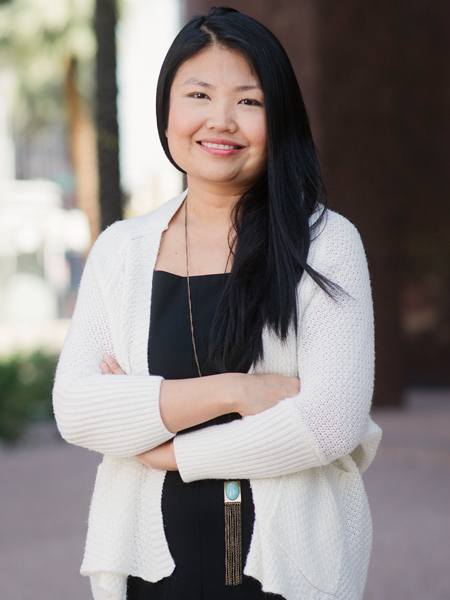 Alumni Intro
It is rare to find a career based on one's passion, yet Arizona State University alumna Sambo 'Bo' Dul has found success in her job as an attorney at Perkins Coie LLP.
Alumni Interview
"I work on challenging, interesting issues that I care deeply about with colleagues that I admire and from whom I learn a great deal," said Dul.
In 2005, Dul graduated with a Bachelor of Arts in political science from the School of Political and Global Studies, a Bachelor of Arts in Spanish from the School of International Letters and Cultures, and a Bachelor of Science in economics from the Department of Economics.
Her journey to graduation and success as an attorney wasn't always easy. It started back when she was a baby and her family were refugees.
"When I was just a year old, my family fled Cambodia to the refugee camps along the Thai-Cambodian border," said Dul. "There, we lived in makeshift shelters for four years before we were approved for resettlement in the United States."
By the time her family arrived to Phoenix in 1988, they had endured more than 10 years of war and genocide. Yet through the trauma and sacrifices, including the loss of her father, Dul was inspired by her family's immigrant experience.
"I had always wanted to be a doctor when I was younger, but my family had to deal with immigration-related issues when I was in high school. It made me realize how much law and policy can devastate normal peoples' lives," said Dul. "This sparked my interest in law and politics and I quickly switched majors in my first year of college."
Dul was an active student at ASU. She was a part of Amnesty International, a grassroots organization that monitors and reports on human rights issues around the globe. She also started an organization to recruit and train students and community members to provide volunteer support services to recently resettled refugee families. During her studies, she spent a semester in Spain and another in Thailand through the ASU Study Abroad Office.
"I always say my time at ASU was some of the best years of my life," said Dul. "It was when I first became socially and politically engaged and also when I really began to explore my family's history and my place in and relationship to the world and the local community. I think my current career path flowed naturally from what I was learning and doing during college."
After graduation, she worked in the refugee resettlement field with the Community Outreach & Advocacy for Refugees in Phoenix. She later did a joint-degree program at New York University School of Law and Princeton University and received a JD and master's degree in public affairs.
"Immediately after graduating from law and grad school, I worked at Sullivan & Cromwell LLP, a law firm in New York City, for about two years before starting a one-year clerkship with Chief Judge Theodore McKee on the U.S. Court of Appeals for the Third Circuit," said Dul. "After the clerkship, I moved back home to Arizona and joined Perkins Coie LLP, in the litigation department."
Dul now focuses on voting rights and election-related litigation, anti-corruption compliance and investigations and general business litigation. In conjunction with her duties, she maintains an active pro bono practice and regularly advises on immigrant and refugee rights.
"I feel incredibly fortunate to have found the professional home I have at Perkins Coie," said Dul. "I've benefited greatly from the support and encouragement of so many people, organizations and institutions throughout my life. I want to be able to pay it forward and to live a life of purpose, gratitude and joy."
Dul has been persistent and dedicated to her studies which has allowed her to make amazing strives. In the fashion of giving back and paying it forward, Dul has some valuable insight for current students at the university.
"Fill your days with work you care about and that interests you, surround yourself with people who inspire and encourage you, and try to find joy in small things. But most importantly, be kind, both to yourself and others."
ASU students can participate in any of ASU's 250+ programs in more than 65 different countries through the ASU Study Abroad Office.