Alumni Occupation
President and CEO, Sher Plastics
Alumni Degree
BS in home economics
Alumni Photo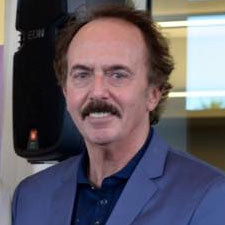 Alumni Interview
Alumnus Richard Sher received one of Arizona State University's first interdisciplinary degrees in design and business through the college's home economics program in 1974. He is currently the president and CEO of Sher Plastics, a third-generation company engaged in the design, sourcing and distribution of buttons, belts and other closures and findings. Sher Plastics is the specified vendor for Ralph Lauren, Dillard's, Kohl's, JC Penney, Target, Gap and others.
Why did you choose to study home economics at ASU?
I wanted to see the rest of the country and be on my own. My father wanted me to go out west, away from my friends, to be in a different environment. He knew I would be fine on my own, so I came out. I was probably the only person in the area who went to ASU at that time. In fact, I had a really strong New York accent and when I came out people were like where are you from? It was a great experience for me. I also wanted to be somewhere where it was sports oriented, so it worked out perfectly for me.
How do you feel your degree program prepared you for your career?
In my situation, it was unique because I knew what I wanted to do: follow in the footsteps of my father and take over the family business. The dean set up a special program for me, which was a hybrid – half business, half liberal arts. My courses included history of costumes, home economics and business. It gave me a little bit of artistic styling to go with my business education. The dean was really terrific for creating a unique program for my needs.
Can you give a brief overview of what you're doing now?
I'm third generation in the family business. We are one of the top three button distributors in the country engaged in the design, sourcing and distribution of buttons, belts and other closures and findings. We ship all over the world and have an office in Hong Kong with 30 people.
What do you believe contributed the most to your career success?
My father taught me the college of hard knocks: work hard, don't give up and be positive. He told me to focus on what I could do that my competitors couldn't. He also said, "Your reputation precedes you, so always do the right thing." I've been following in both my grandfather's and father's footsteps in that respect.
In old-fashioned business, you forge a bond and that's what we do; we build strong connections and relationships with our customers. They are old-fashioned ideas but they work. If we ship something that's not right, we take it back. We do what we have to do, and we respond quickly.
What inspires you to succeed?
A healthy ego, not one that clouds your judgement. I want to be the best I can at my business. I'm the front man of the company, because I love getting out and working with people of all ages. I can connect with all types of people, from the younger generation to people my own age. I love the competitiveness of the retail industry. Pride also inspires me to succeed. It's really satisfying when you develop something really cool and the customer loves it.
Success is not a sprint, it's a marathon. I think so many kids want to go right to the top. They want instant gratification, but you got to work at it and have a long-range business plan. I've become savvier with it as I've gotten older. As the world becomes more complicated, you really have to take in so many different facets; it's more dimensional than ever. So you have to become innovative. Our strength is our design, customer service and quality.
What does it mean for you to be an alumni leader and a role model for other ASU students?
It's a recognition I am flattered and humbled by. It's nice being able to give back and have people recognize my success. It's something I've always thrived to obtain.
Do you have any advice for current students to help them succeed in their respective careers?
Don't take the easy road and follow your heart. You have to love what you do. You're working more than you are home, so you better like what you do. If you can find the passion in it, it is so much better.
I love what I do. I love selling and I love buttons. Find what your passion is and follow it. Don't do what you think you should do, do what you want to do. That's the most important thing.
When's the last time you were on campus?
The last time I was on campus was in April for the Phi Gamma Delta (Fiji) 40th reunion. It was amazing, like we we're kids again. It was also great hearing about all the fanatic things my fraternity brothers have accomplished. I would say about 98% of us have been successful, which is great.
What do you hope your legacy will be?
I want to be remembered as a hard worker who had a vision and was always honest, warm and fair.