Alumni Occupation
Vice Chair of the Maricopa County Democratic Party
Alumni Degree
B.A. Political Science
Alumni Photo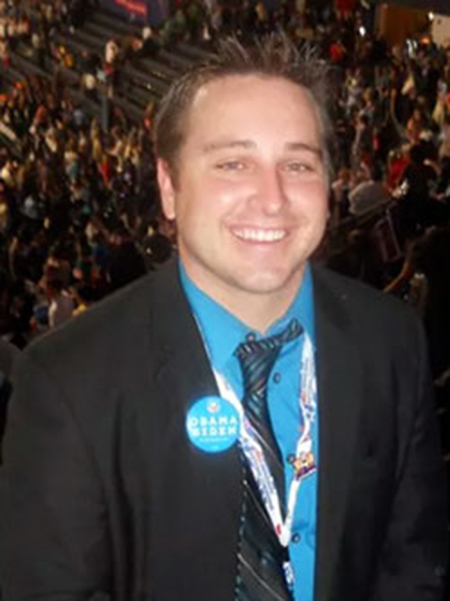 Alumni Interview
Steven Slugocki, a 2007 graduate with a BA in political science, uses his degree to help small businesses and serve as the Vice Chair of the Maricopa County Democratic Party.
Why did you choose ASU and your major?
I chose ASU because I have been attending Sun Devil sporting events since I was very young. I honestly never considered anywhere else. Growing up in the Valley, I had to "stay true to ASU." I chose political science and history because they are two things I have always loved. In high school, I was fascinated by the 2000 presidential election and wanted to learn more. I don't know many high school students whose favorite channels were CNN and the History Channel. This passion led me to wanting to know everything possible about these subjects, and they were a natural fit for me when selecting my program.
Who were your mentors?
My mentors were a combination of family, friends, professors and classmates who helped push me to graduation. I had a great support system that helped me see that any future I saw for myself required a college degree.
Did you receive a scholarship while at ASU? What impact did that have on you?
I did not receive a scholarship. I was fortunate to have my parents and employer support my tuition expenses. I had a part time job that helped cover some of the additional costs during my time in school and was lucky to graduate without a large amount of student debt.
How do you feel your degree program prepared you for a strong career/future?
My program prepared me for recognizing and acknowledging differing viewpoints, working with others, and having a strong work ethic, both in class and in my career. My classes were always challenging, but through research and dedication I was always able to accomplish the task at hand. My classes had a lot of group assignments, so teamwork and communication were valuable skills that I still utilize today.
What clubs/organizations did you participate in while at ASU? How did these activities shape your experience or choices?
I was a member of the Young Democrats and worked with the College of Liberal Arts and Sciences to improve student life and community involvement through local projects. These groups and activities taught me the value of working to better our community and that the power of a small group of people can truly make a positive change. I was not involved as much as I wanted to be because I had to work outside of school. There truly were some great groups I wish I was able to be more involved with.
Do you have any advice for current students at ASU or CLAS?
I would advise them to get to know their professor and classmates early on in the semester. It helps to show the instructor they truly care about the class and they will remember that. Meeting dependable classmates who you can call for help is also important because there will be some tough classes the closer you get to graduation. How you start a class will set the tone for the entire semester. If you struggle at the beginning, you will be playing catch-up all semester. I would also recommend taking responsibility for your schedule. Seeing what your options are and registering early will ensure you get the classes and instructors you want the most. Waiting until the last minute can leave you with little options.
Please tell us about what you have been doing since graduating? What is your current occupation and what impact did ASU have on that career choice?
I currently work for Wells Fargo in downtown Phoenix in small business sales. In addition to my professional career at Wells Fargo, I also serve as the Vice Chair of the Maricopa County Democratic Party. I am very busy with both jobs and my time at ASU really helped me with both. Building relationships, doing the right thing and improving the community are all things I learned while in school. When I meet a fellow Sun Devil, it instantly creates a connection and something to build on in business and in my personal life. Going to ASU showed me the huge possibilities within the Valley and how far I can go when I leverage the skills learned with my degree.
How involved with ASU are you now? Do you keep in contact with fellow classmates? Have you been back on campus?
I have stayed in contact with several classmates and because of those connections I recently interviewed and was honored to be chosen to serve on the ASU Young Alumni Council. We have monthly meetings on campus and we learn how best to connect recent graduates with ASU. We are working to show graduates the incredible benefits they receive by staying connected to ASU. Our goal is to help make ASU have the biggest and best alumni organization in the country.
What's the most significant change at ASU since your graduation?
Some of the new buildings are incredible! Our Alumni council recently had a tour and private screening at the Marston Exploration Theater. I was amazed by what they are doing there and encouraged all my friends to experience it for themselves. The campus has changed so much in the past few years and it's very exciting to see what the future has in store. Dr. Crow has an exciting vision for the school and I hope that all alumni can come see the big changes that are happening right now.
Where do you see yourself in 10 years?
I hope that in 10 years I will be just as connected to ASU as I am now. As I continue to develop my career path, what I learned at ASU will surely help me go further in my career. I hope that in 10 years people can look to me as a community leader and that I helped make a positive difference. I know that I will be attending sporting events for years to come as well. The pride I have in my school, my degree, my time at ASU and my community make me a proud Sun Devil every single day.