Alumni Degree
B.A. Communications
Alumni Photo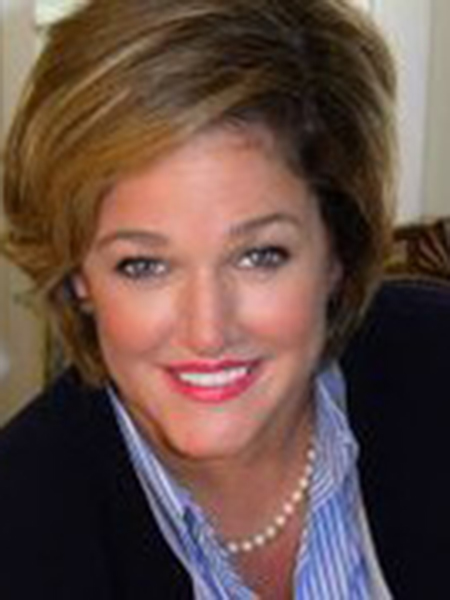 Alumni Interview
Anne Lacey Holmes took her ASU communications degree to try and shape communication technologies of the future. Her venture with Dallas startup i2i Inc. seeks to develop a wearable computer, smart eye glasses, called iPal. Her goal: introduce eye gestures as a new and Natural User Interface (NUI) and revolutionize picture taking, video recording and broadcasting of what you see live – bringing artificial intelligence to our everyday life.
How did your journey start at ASU?
One of my main reasons for choosing ASU was that my sister started there two years prior. So I guess you can say I followed in her footsteps. I came from out of state and was looking into a Pac-10 (now Pac-12) school. I used to visit my sister and fell in love with the campus, scenery, people, endless support and opportunities! Plus, the football stadium was located across the parking lot from my dorm which I thought was very cool. There wasn't a time during college that I went somewhere around campus without finding a friend.
Why communications?
There were so many choices and opportunities it was tough to make the decision when I joined the College of Liberal Arts and Sciences. Initially, I wanted to major in interior design, and then I fell in love with the art of communication along the way. The college offered so many areas to choose from and it led me to what is now the Hugh Downs School of Human Communication. One of my ASU professors told me that when you graduate and move on in life with a degree in communication, it will be something that you can apply in any career, job, relationship or whatever you want to do. He was right.
Who were your mentors?
My mother, mostly. She did everything in her power, gave up so much of herself to raise me properly and to ensure that I was on my way to the college of my choice, which was ASU. She would say to me, "There is nothing you cannot do in life that a man can't do even though their paycheck will be higher than yours. You must never give up." And I haven't.
I've been very fortunate to have many other mentors too. Both men and women play amazing roles in life and both have been amazing mentors for me. They all seem to show up and help carry me through challenges and opportunities. I'm not sure if I call them mentors or angels anymore? My late father was also a mentor to me. He was a U.C. Berkeley graduate, math teacher, coach and served in the U.S. Navy. Dad did live long enough to see me graduate from ASU. He wrote to me each month while I was there. He supported me the best way he was able. I miss him. All my siblings were mentors too. And to name a few from ASU: Ms. Ledbetter, Ms. Crutchfield, my sister and sorority sister Megan. Also, Dean Kirkpatrick and Dean Kranbuehl, both faculty in the college, and the whole team in the College of Liberal Arts and Sciences. Other mentors included Thomas J. Coffman, Mary Illes, my manager at Microsoft, James "Blackie" Holmes ( father-in-Law), Michael Ball (former ASU graduate) and Suzie Calabro (my first manager at Microsoft).
A couple years ago, an amazing thing started when I joined i2i Inc.- a Dallas high-tech startup. I discovered that the road or journey can also be your mentor. The startup journey brought me many invaluable lessons. While I never had a child, I feel our iPal product is my baby and I am so proud of her. iPal will revolutionize how we communicate; it will give a voice to your eyes for the first time ever. I am so thrilled to be a part of the next generation communication solutions beyond smartphones. You can learn more about iPal at http://meetipal.com/, please go check it out!
What inspires you?
Life inspires me. I love being with people. Many other things inspire me: being coachable, going new places, building relationships and connecting people, life experiences, my family, my husband, friends, children and opportunities. The art of creation and communication, following your passion, entrepreneurship, spirit, creativity and humor also inspire me. I also get inspiration from within.
How do you feel your degree program prepared you for a strong career/future?
Interpersonal communication studies prepared me for the career that I started out of college, first with my back pack on my back through Europe and then onto Microsoft Corporation in the Seattle area. My roommate at ASU was from Seattle, so when I moved there after college I reached out to a few of my former ASU friends in the area. One in particular, James DeBragga, had begun his career at Microsoft. He took the time to prepare me for what a day and the life was like at Microsoft. He helped prepare me for my interviews and served as an advisor as I prepared for what would be the next 13 years of my life at Microsoft. We are still friends to this day. Microsoft transferred me to Dallas, TX, in 1998.
Were you a participant in any clubs/organizations at ASU? How did these activities shape your experience or choices?
I worked on campus for the College of Liberal Arts and Sciences and enjoyed every minute of it. The work helped pay for my tuition, books and taught me work/life/school balance at a young age. My job involved office functions and interoffice mail delivery on foot! It gave me an opportunity to work alongside amazing faculty/staff and exceptional deans and to also interact with the other areas of studies under the college's umbrella. I was part of the ASU Student Foundation – which gave me a better understanding of true talent and diversity. The spirit of team support and winning together is so amazing at ASU... opportunities are endless.
I was also in a sorority, Delta Gamma. Greek life played a big role in college. Even today, I serve on the Delta Gamma corporate board at SMU. My experience was shaped by being open to helping women, such as being a part of WITI (Women in Technology International), and helping others get into technology and stay in the field.
Do you have any advice for others coming to ASU?
Be open to learning all of what ASU has to offer. Explore the college, especially as you are getting started, since there are many areas in life that liberal arts and sciences applies to. Get involved with ASU's current technology program and emerging technologies. Apparently ASU is one of the only in the world to offer emerging tech and science programs, such as Earth and Space Exploration. Love life and what you do and live in the moment.
Tell us about the job you do now and how you acquired it?
As I said earlier, iPal is my passion these days. Three years ago, after speaking at an event, I got to meet Dr. Masoud Vaziri and learned about his i2i Inc. startup. I have played a key role to bring the company to the current stage. We recently introduced iPal to the world and started to accept pre-orders via Indiegogo crowd-funding website. See it online.
What are your next steps?
iPal is a pair of smart glasses and a wearable computer. I believe that iPal is the next computing platform after smartphones. If iPhone is a pocket computer, iPal is a wearable computer. iPhone introduced multi-touch user interface (acquired from a startup). iPal is introducing eye gestures as a new and Natural User Interface (NUI). The iPhone introduced Siri as a digital personal assistant. But iPal is the first and only digital personal assistant that can see and can also provide eyesight to Siri. iPhone re-invented the phone and turned it into a pocket computer. iPal is re-inventing the camera and turning it into a wearable computer. With iPal, your eyes are your camera. You can take pictures, record videos or broadcast what you see live. With wireless and cloud computing, iPal will bring artificial intelligence to our everyday life.
I plan to focus on iPal and fundraising has been one of my tasks. Hardware is hard and expensive. There is only so much you can do with your family and friends. We are doing things that Apple and Microsoft have not been able to do. If there are any ASU alumni who want to be a part of the next big thing, I'd like to hear from them. Please go to http://meetipal.com/ to contact me. Thanks you all! I look forward to be on campus again and soon!