Facts and Figures
Our size gives us strength in numbers to create meaningful change
Over the past decade, The College of Liberal Arts and Sciences has grown to be the largest and most diverse unit at Arizona State University. In an effort to redefine a liberal arts and sciences education for the 21st century, we've built a forward-thinking platform derived from our capacity in the humanities, social sciences and natural sciences. Our efforts have proven to be transformative and successful — a springboard for the launch of our 23 academic units, 95+ undergraduate majors, 140+ graduate programs and 47 interdisciplinary research centers and one-of-a-kind institutes.
Home to some of the brightest intellectuals in the world
From Royal Society and American Academy fellows to Marshall and Barry Goldwater Scholarship recipients, The College is home to students and faculty members who have received prestigious awards for their insights.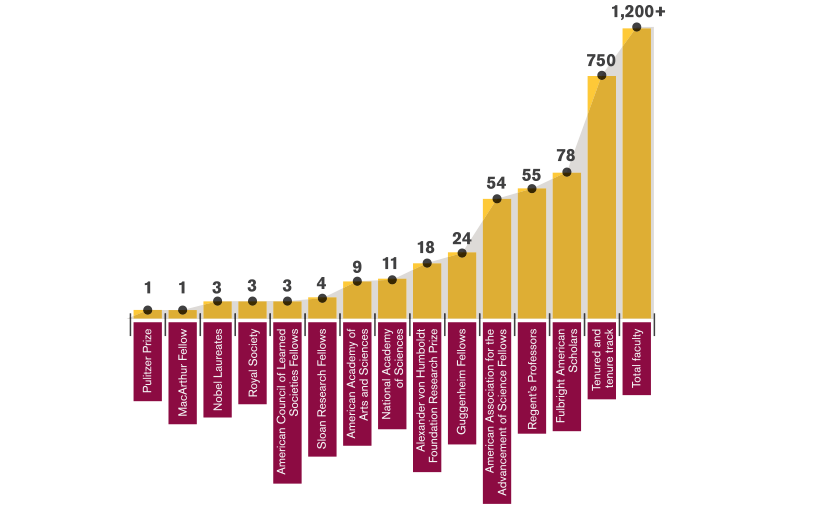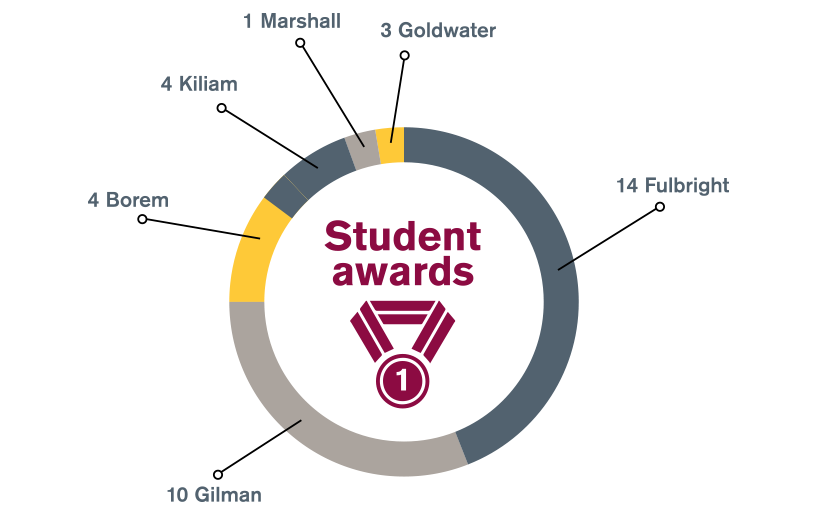 Highlights from our college
14:1
Student-to-faculty ratio
3
Residential communities
Student scholars
In fall 2018, our college welcomed more than 320 scholars to our community of incoming freshmen. Our scholars include high-achieving students who are eager to become civic leaders.
3 National Achievement Scholars
18 Flinn Scholars
161 National Hispanic Scholars
146 National Merit Scholars
Student scholarships
When you're a part of our college, we're here to help you succeed. You'll have access to a number of scholarships to help cover your tuition. See what we awarded for the 2017/18 academic year.
9,000+ scholarships awarded
$73.1 million awarded
222 named scholarships
National and global rankings for our graduate programs
15th Earth Sciences
41st Clinical Psychology
39th Psychology
44th Physics
51st Political Science
62nd Biological Sciences
60th English
67th Sociology
52nd Chemistry
62nd Math
79th Statistics
69th History
(U.S. News & World Report, 2017)
Did you know?
More than 50% of all ASU students enrolled in fall 2018 were enrolled in at least one course from The College.
Did you know?
65% of the highest enrolling courses across the university are offered by our college.
Did you know?
Of all ASU undergraduates who graduated from the university in spring 2018, 94% of them took at least one course from The College in their career.