First-Year Communities
What is a residential community?
A residential community is a place where students from the same academic discipline come to live and learn together. Our living-learning communities are housed within a residential college and are designed to foster student success by easing the transition from high school to university life. When you live in a residential community, you'll meet friends who share your interests, develop better study skills in a collaborative environment and engage in university events to enhance your overall development.
Live on campus in a residence hall
Manzanita
When you live in Manzanita Hall, a recently renovated co-ed hall for freshman, you can enjoy a variety of amenities like lounges on every other floor, recreational entertainment and Manzy Square, an all-you-care-to-eat dining facility. Plus, you'll be right across the street from the Sun Devil Stadium and just minutes from downtown Tempe and Mill Avenue.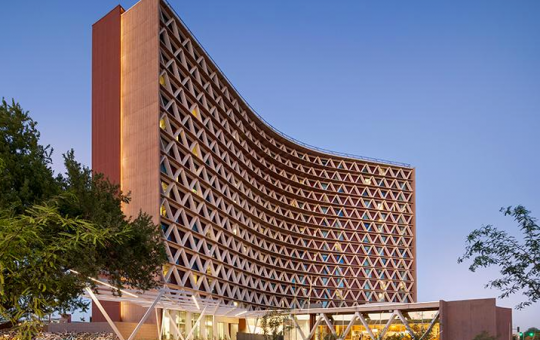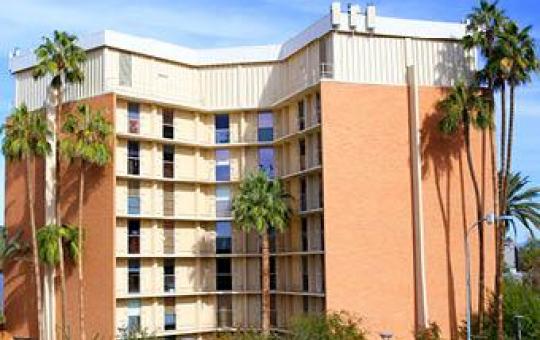 Palo Verde East
Palo Verde East is a great residential community for first-year students who want access to an array of amenities. Whether you want to grab Starbucks before class, pick up a care package at the UPS Store or grab a snack before your study group, the community's hub houses it all. You're also close to Manzy Square and Mill Avenue District for great dining options and just steps away from on-campus activities, cultural events and recreational sports.
Palo Verde West
In Palo Verde West, you'll live on the north side of campus in a double-occupancy room with a suite-style bathroom. You'll enjoy weekly social activities to meet fellow residents and have access to a tutoring center to help you succeed. Another benefit of living on the north side of campus is being just minutes away from Sun Devil Stadium and Wells Fargo Arena so you can showcase your spirit at sporting events.
Why live on campus?
Why live in one of our residential communities?
Leaving home for college is a huge change, but we're here to help ease your transition. When you live on the Tempe campus in one of our residential communities, you'll have the resources to thrive at the intellectual heart of the university with students who share your academic interests.
Our residential communities provide a supportive, vibrant environment designed to help you succeed at the university. Living among fellow students in the College of Liberal Arts and Sciences, you'll have access to opportunities and experiences that will contribute to your personal and professional development.
As the largest college at the university with the most choice and diversity of studies, our residential communities are a great way to learn about departmental activities as you start forging connections with faculty and students.
When you live in a residential community, you'll have a Community Assistant – an upper-class student who lives on the same floor and supports your journey toward success as a first-year student. Our mentors are well-rounded, enthusiastic scholars who are great resources and can provide advice on how to succeed.
Choose a hall
How do I make a housing selection?
All first-time incoming freshmen admitted to majors in the College of Liberal Arts and Sciences are eligible to live in one of the three buildings housing our residential communities.
After you're admitted to the university and have submitted the enrollment deposit, all housing options will be viewable on My ASU.
Complete your housing and dining confirmation. Select the College of Liberal Arts and Sciences community of your choice.
Questions
Do you still have questions?
If you still have questions about living in one of our residential communities, contact the Office of Student and Academic Programs at 480-965-6506 or clasadmissions@asu.edu.