Influential research numbers
Our faculty and students are leading the way in innovation
Our research embraces various fields of academic scholarship
As the intellectual heart of one of the fastest growing research institutions in the country, The College of Liberal Arts and Sciences has established a reputation as a leader in research and discovery. Through use-inspired initiatives and a fusion of academic disciplines, our faculty and scholars are pursuing excellence and societal impact – helping the university maintain its prestigious Research I designation.
Our college personifies a broad vision of academic scholarship in the humanities, natural sciences and social sciences. Our innovative academic units, centers and institutes adapt to new challenges and a changing landscape to make notable contributions to a diverse array of fields, including bioarchaeological research, digital antiquity, global health, human dynamics, mathematics education and space exploration.
Top Sponsors

(proposals)
$7.9M
Department of Defense
$16M
National Aeronautics and Space Administration
$24M
National Science Foundation
$20M
National Institute for Health
$1.7M
Department of Energy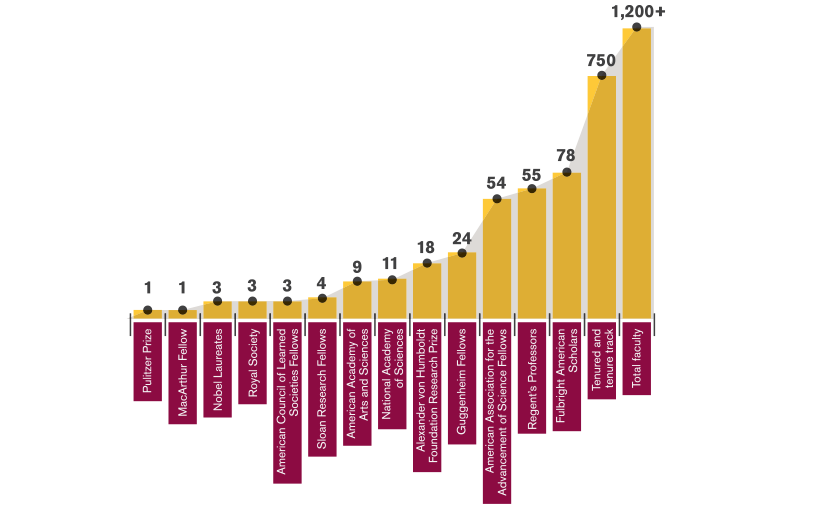 Discover our revolutionary faculty achievements
The College of Liberal Arts and Sciences is home to three Nobel laureates, 24 Guggenheim fellows, 54 American Association for the Advancement of Science fellows, 77 Fulbright American Scholars and more than 1,100 faculty members who are steadfast in their commitment to legendary academic scholarship.
Our distinguished, award-winning faculty members have been recognized for being at the forefront of intellectual inquiry and revolutionary research. From pharming tobacco to beat Ebola to developing a blood test for cancer, our faculty are making momentous discoveries to evoke change globally.
2016 National Science Foundation (NSF) Higher Education Research and Development (HERD) Rankings
Geological and Earth Sciences
Highlights from our college
$140m
In research expenditures
$700m
In research proposals
1,800
Research proposals submitted
2015 ASU Expenditures (top 5)
Top Grant Awards 2015-2016
NASA - $37,620,702

James Bell (SESE), MESH: Mapping Europa Surface Heights
NIH - $26,685,114

Petre Fromm (SMS), Center for Membrane Protein Drug Discovery
NSF - $2,825,509

John Spence (Physics), MRI: Acquisition of Cryo-EM for Southwest Regional Center
ASU Foundation/State Farm - $6,112,792

Kimberly Scott (SST), Center for Gender Equity in Sciences & Technology
CDC - $3,777,005

Gabriel Shaibi (REACH Institute), Preventing Diabetes's in Latino Youth
DOE - $2,900,003

Daniel Buttry (SMS ), Electrochemical Capture and Release of Carbon Dioxide
Undergraduate research
Our undergraduate students have the opportunity to work with faculty on innovative research projects, spanning all our academic disciplines, which are geared toward impacting local, national and international communities around the globe. We encourage our scholars to get involved and start making a difference in the world.
Graduate research
Our graduate students within the college have access to 40 high-tech research centers where they can explore academic and research interests in the humanities, social sciences and natural sciences, alongside renowned faculty who will help guide them in making important discoveries to solve some of tomorrow's biggest challenges.