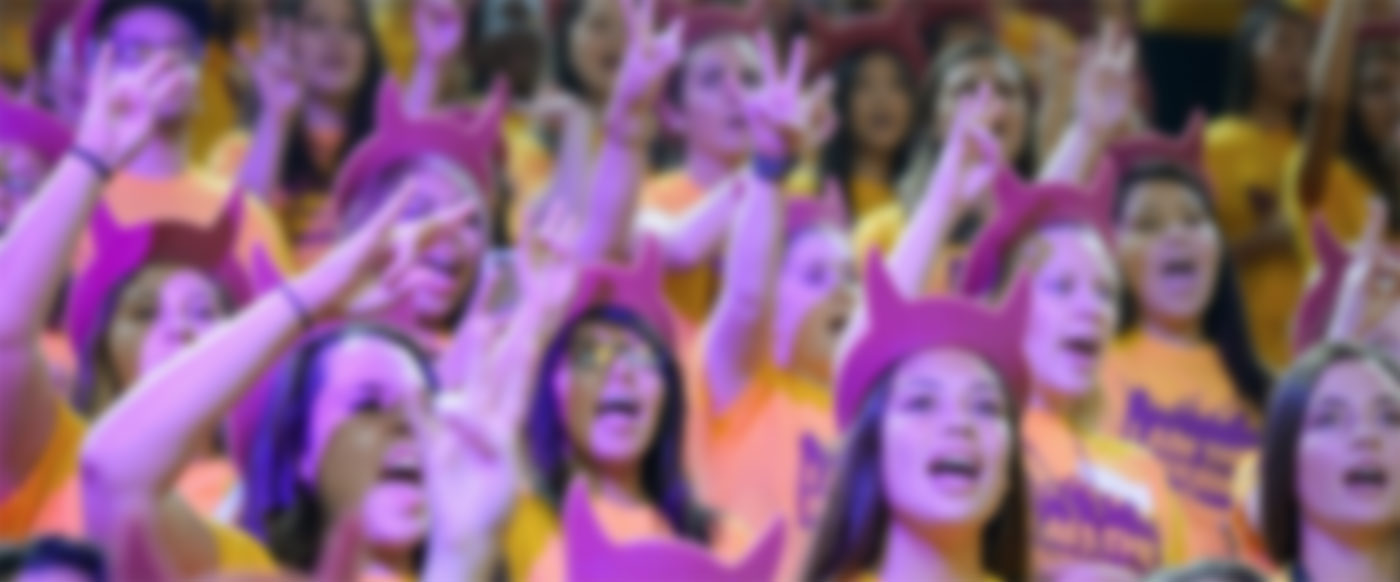 The College Welcome Events
We are excited to welcome you to Arizona State University and to ASU Welcome, a fun and important week of events packed with Sun Devil spirit, pride and tradition. During welcome week, The College will host academic unit welcome events, as well as our larger assembly. Please see below for the schedule of events The College is planning and click here to find more ASU Welcome events taking place across campus.
Sun Devil Tuesday: must attend events for The College
Academic Unit Welcome 2:30 – 3:30 p.m. | Meet faculty and current students in your major. *Location varies by unit. See below for locations.
The College Welcome Assembly 4 p.m. | Doors open at 3:30 p.m. (Gammage Auditorium) Learn about resources, clubs and leadership opportunities at The College, and be entered into a raffle to win one of five scholarships. You will also receive a rally towel, a clear belt bag and an ASU T-Shirt for Sun Devil Welcome.
Sun Devil Welcome 7 p.m. | Doors open at 6:30 p.m. (Sun Devil Stadium) Join your fellow Sun Devils at Sun Devil Stadium for a student-led event featuring a welcome by President Crow, performances, a college roll call and more. Come get loud and kick off your first semester at ASU.
Academic unit welcome events
Many of the academic units in The College of Liberal Arts and Sciences will be hosting a separate welcome event for their students. Below are details for each unit currently planning a welcome event.


Academic Unit

Time

Location


American Indian Studies

2:30 p.m
Discovery Hall 356


Department of English


2:30 p.m

Ross-Blakley Hall Lobby


Department of Physics


2:30 p.m

PSH 356


Department of Psychology


2:30 p.m

Murdock Hall 101


Economics

2:30 p.m
Creativity Commons 472


Hugh Downs School of Human Communications


2:30 p.m

Stauffer Hall A137


Interplanetary Initiative


2:30 p.m

Sun Devil Hall 160


School of Civic and Economic Thought and Leadership


2:30 p.m

Coor Hall 6631


School of Earth and Space Exploration


2:30 p.m

ISTB4 Marston Theater


School of Geographical Sciences and Urban Planning


2:30 p.m

Stauffer A221


School of Historical, Philosophical and Religious Studies


2:30 p.m

Coor Hall 4403


School of Human Evolution and Social Change


2:30 p.m

SHESC Building 340


School of International Letters and Cultures


2:30 p.m

Durham Hall SILC Café
(first floor)


School of Life Sciences


2:30 p.m

Life Sciences Center
Main Entrance


School of Mathematical and Statistical Sciences


2:30 p.m

Wexler Hall 118


School of Molecular Sciences


2:30 p.m

PSH 150


School of Politics and Global Studies


2:30 p.m

Coor Hall 170


School of Social Transformation

2:30 p.m
NOVUS third floor

School of Transborder Studies

2:30 p.m
Interdisciplinary B 161B


T. Denny Sanford School of Social and Family Dynamics


2:30 p.m

Social Sciences Building Atrium