On-campus housing
Live in ASU housing, immerse yourself in the Sun Devil experience
Live with students who share your interests
As a student in The College of Liberal Arts and Sciences, you'll have a number of options to choose from when it comes to experiencing life as a Sun Devil. Our Tempe campus housing arrangements are designed to allow you to live with other students who share the same interests in a supportive environment.
More than just a dorm, a residential college combines community activities with support services to advance your academic growth and development. Plus, studies show students who live in ASU's student housing perform better academically and are happier with their college experience.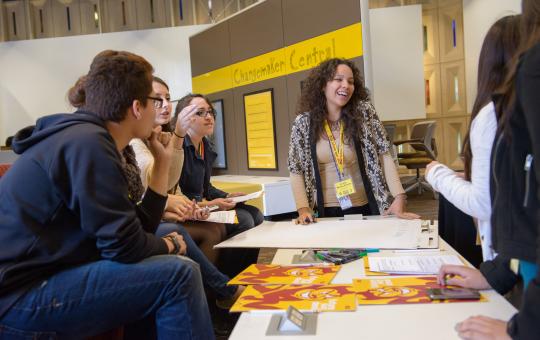 First-year student housing
Our residential communities within Manzanita, Palo Verde West and Palo Verde East are available for first-year students in our college. Find out which community suits your needs best and how to enroll for housing. Learn more.
Barrett Honors College   
The residential community in Barrett, the Honors College is open to students who are accepted into the college. You'll join a group of scholars who are committed to maximizing their college experience through honors coursework. Learn more.
ASU housing expectation for first-year students
We believe living on campus is critical for a successful transition to university life and first-year academic success. Each of our residential communities provide access to resources and services to prepare you for the rigors of your academic major and success in your chosen field of study.
As a first-year freshman, you're expected to live on the campus of your major. You will live in a supportive, close-knit residential college community designed to help you succeed at ASU. Residential colleges place you next door to classmates that share your major or career interests and feature programs, events and amenities tailored to your major. Form valuable connections with roommates and classmates that will last a lifetime. Learn from staff who are prepared to help you build the foundation for your next four years. Residential colleges feature programs, events and amenities tailored to your major, including: tutoring, advising, and academic resources.