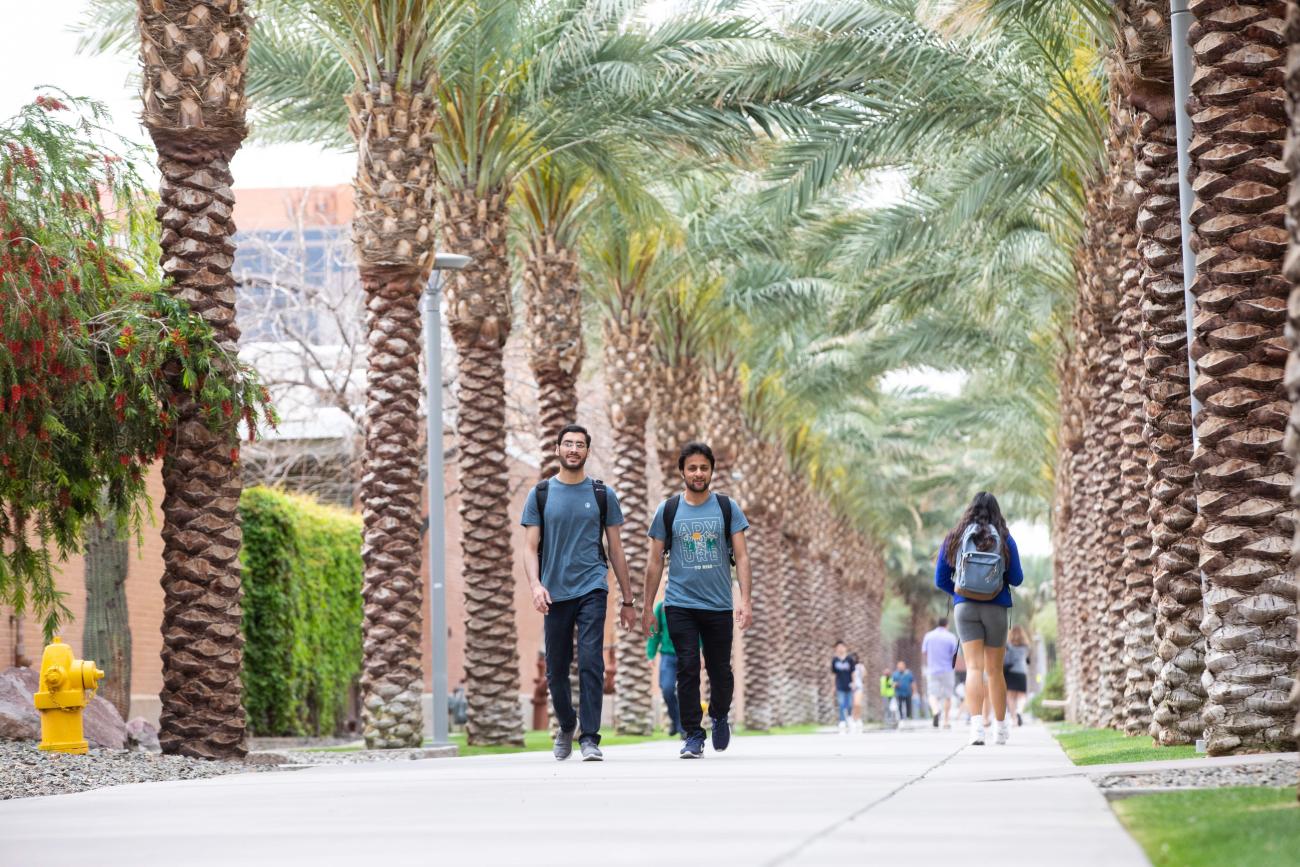 Welcome to The College of Liberal Arts and Sciences
You're on your way to one of the most transformative experiences in your life. At The College, we'll help you gain the skills and knowledge necessary to be successful not only in your career, but in all aspects of life. Through our diversity and size, we make sure you have the opportunity to thrive.
Find the academic program that fits you
As the academic heart of the university, The College is redefining the liberal arts and sciences education by uniting traditional disciplines in innovative schools and departments across the humanities, natural sciences and social sciences. Based on the Tempe campus, you'll find a classic Pac-12 college experience in one of the top college towns in the U.S. Tempe campus is also home to Sun Devil Athletics, use-inspired research, performing arts venues and more.
Humanities
Deepen your understanding of the human experience by learning how to answer global challenges with empathy, creativity and passion.
Natural sciences
Gain the knowledge to question, examine and test laws, principles and practices as you prepare to research and make discoveries that will impact human progress.
Social sciences
Pioneer solutions to society's biggest challenges by expanding your ability to examine how people behave, understand cultural practices and comprehend complex issues.
What will your future look like? Discover the opportunities available in The College and start your Sun Devil adventure.
Transfer to The College
The College welcomes transfer students from community colleges and four-year institutions. And as one of the nation's top 10 institutions for undergraduate education, we are committed to helping transfer students to create a seamless college journey to ASU. MyPath2ASU™ is your suite of customized self-service transfer tools that saves you time, helps you select the right courses, minimizes loss of credit and enables successful degree completion.
Customize your experience
What makes The College so special? Beyond high-quality academics and an expert faculty, you will have the ability to personalize your experience with opportunities such as internships, research projects and study abroad. We also have the resources to support and guide you along the way.
Making a difference in STEM inclusivity
During her time in The College,
physics graduate Lily W.
founded the Society for Women in the Physical Sciences, received the NASA Space Grant for several years, presented her research at many conferences and participated in National Science Foundation Research Experiences for Undergraduates around the world. Her passion for research earned her a Goldwater Scholarship, the most prestigious undergraduate award in the nation for students in science, math and engineering fields.
Advocating for the Latino community
Angelica C.
spent her time in The College seizing opportunities and advocating for the Latino community and undocumented immigrants. A dual graduate in School of Transborder Studies and School of Politics and Global Studies, she served as a Democratic staff intern at the Arizona legislature, interned with U.S. Representative Mike Levin through the HIspanic Caucus Institute and served as president of ASU's Aliento, an advocacy organization.
Languages lead the way to future career
Triple major
Micah M.
transferred to ASU after his freshman year looking for a personal and academic reset. With help from the motivating environment and opportunities offered, he graduated with not one, but three degrees, in English (literature), French and political science; one minor in Asian languages (Chinese); and one certificate in international studies from The College. Learning multiple languages gave him a new mindset and the ability to embrace other people in other cultures, skills that will help him succeed in his next journey at Harvard Law School.
Take your next steps
Start on your path to The College today.
Connect with The College
If you'd like to hear more about The College experience and discuss what your Sun Devil journey may look like at ASU, schedule a one-on-one appointment or email thecollegeadmissions@asu.edu. You can also read more about The College here.