Alumni Occupation
Improv comedian, freelance copywriter
Alumni Degree
English (creative writing)
Graduation Date
BA 2012, MFA 2016
Alumni Photo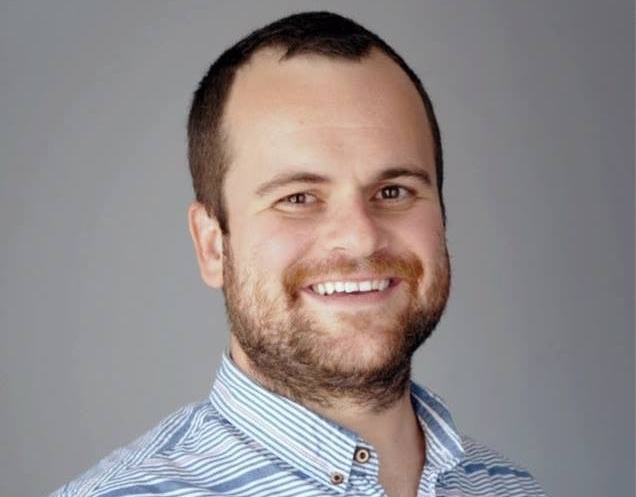 Alumni Interview
Raised on comedy from Steve Martin and movies from Monty Python, Wilcock chose an English degree program after realizing many of his comic heroes got their start as writers.
"They wrote stories and they wrote a lot of them, so in college I started doing the same," he said.
Wilcock graduated with a bachelor's degree in creative writing from the Department of English in 2012. He returned to the department as a creative writing lecturer and obtained a master's degree in the same field in 2016. While in school, he was inspired to pursue another outlet after watching a different form of comedy on stage.
"I was really liking the writing portion of my degree but still wasn't sure where to go with comedy, then my wife and I went to an improv show," he said. "Soon I was performing every weekend at the National Comedy Theater in Mesa."
Today, Wilcock is a fiction author and an independent copywriter working for major brands across the U.S. He also continues to perform and teach improv around Phoenix. What do comedy, fiction and advertising have in common? Wilcock said the spontaneity of the stage is the glue that holds them all together.
"In improv, you're having to create characters very quickly and consider how they inhabit the stage," he said. "I would get a lot of my writing inspiration through that, I'd create something to perform and pretty soon that character would show up in my stories."
He said the stage can also be a powerful outlet for writers across fields and students still honing the craft.
"The first copywriting job I had out of college actually hired me because I did improv. Within that role it was important for me to jump from voice to voice quickly, just like on stage," he said. "Writers are often hesitant, they want the finished product but get stuck in the process. Improv forces you out of the rut because it's a situation where the only bad decision is no decision at all."