Alumni Degree
M.F.A., creative writing
Alumni Photo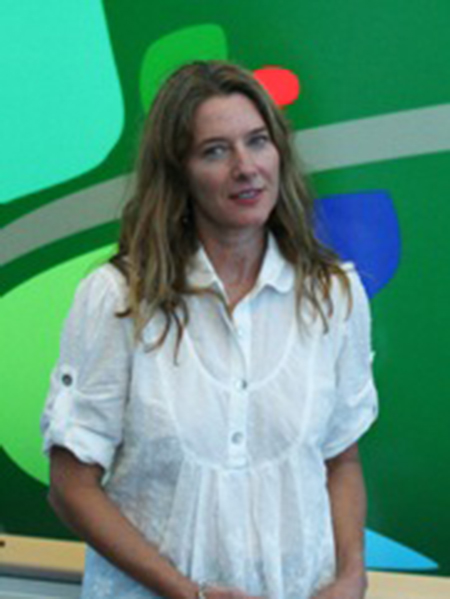 Alumni Interview
Kathleen Winter is a poet who was born in McAllen, Texas and grew up in San Antonio. Her poems have appeared in journals such as AGNI, FIELD, The New Republic, Anti- and the Cincinnati Review. She holds degrees from Arizona State University (MFA 2011), the University of California, Davis, School of Law, Boston College and the University of Texas at Austin. She lives in Northern California and teaches writing at the University of San Francisco.
Congratulations on your first full-length collection of poems, "Nostalgia for the Criminal Past." How did it feel when you first held the book in your hands? I was tearing out my front door nearly late for work when I almost tripped over the box from Elixir Press on the porch landing. UPS had delivered it while I was out walking my dog; we'd come back in through the kitchen door, so I hadn't seen the package. Touching the book, seeing it as an actual present thing, not just computer galleys, was a thrill, a joy--because I love the cover photograph by Russell Lee--and also a slight relief. I'm a bit of a worrier and I kept thinking some disaster might occur and the book never come into being.
You have an extensive educational background, including a law degree, what inspired you to obtain your MFA in Creative Writing at ASU?
I've written poems since I was in college, and hold an MA in literature, but about ten years ago I became increasingly serious about writing poetry and began to believe I could be good at it, if I focused more on literature than legal arguments. I tried to juggle a career as a lawyer and one as a poet, but poetry was too fascinating--it took over. Attending Vermont Studio Center artist residency was one deciding factor: I had the opportunity to be a poet "full time" for a month, to write constantly, interact with other writers and visual artists who'd centered their lives on a creative practice, and that persuaded me I needed to change my life. Entering the MFA program in Creative Writing was a practical means to improve my writing, be inspired by the community of other artists, and start to develop knowledge and skills as a writing teacher, so I could make a living in a field conducive to creative writing.
Based on the title of your book it would appear that your background in law comes out in your poetry, true?
The presence of legal language in the title is almost a coincidence. The title poem, "Nostalgia for the Criminal Past," isn't related to my work as a lawyer. I had a civil law practice, and know very little about criminal law except some elements I foggily recall from law school. This poem's an invented vision of some rather romantic "criminals" living on a farm in northern California. I wanted to write a poem that redeems nostalgia from being toothless and insipid. One of my favorite films is "Nostalghia" by the Andrey Tarkovsky, and that also weighed in favor of my choice of title.
What is the most challenging part about writing poetry?
Perhaps hardest is trying to transcend the personal, trivial matters of my life in order to write about more important issues, ideas, problems. Sometimes, writing about my life can be a means to speak to these other and radically more important themes, but it's easy to get caught in the minor and ultimately boring details of one person's experience. Another challenge for me is writing when I'm not inspired...that is, writing on a regular schedule. I think this is a good healthy practice, but I have yet to fully adopt it.
What is more difficult, writing a poem or practicing law?
Practicing law is infinitely harder than writing a poem. As a lawyer, one serves the best interests of others, and has the duty to represent one's clients as honorably, skillfully, wisely, as possible. This can be an enormous responsibility and quite stressful, although also of course has the potential to be very fulfilling. Writing a poem is usually, almost always for me, a playful and joyful experience.
I read that one of your favorite jobs was working in a bookstore in Boston. Did you ever think that you would be a published poet back then?
Like most writers, I've been an avid reader since early childhood and many of my role models and heroes have been writers....so yes, as a young student and bookseller I imagined myself as writer and hoped I'd eventually write and publish books.
Do you have a favorite "space" to write?
I like to write at home with my dog at my side, and often do so sitting in bed, writing longhand in cheap, scraggily notebooks.
What do you enjoy most about writing?
I love the mental state of writing, the intense concentration on diction, rhythms and sounds of words in a draft poem, the way everything else in life can seem to drop away so one's worries and fears recede and the actions of thinking and writing out the poem consume one's entire attention. I love the fun of finding something fresh to share with the imagined audience, a new image that links multiple ideas or experiences. . . and I deeply appreciate poetry as a vehicle to speak about issues and problems I'm concerned with.
What comes to mind when you think of your days at ASU?
My teachers will always be the most meaningful part of my MFA experience at ASU. I was blessed with three years to work with a number of the most brilliant and generous poets in the country.
How did your time at ASU prepare you for what you are doing today?
ASU's MFA program was very well designed to help me realize my goals: to make my poems as emotionally astute, surprising, and beautiful as I can; to write books worth reading and re-reading; and to prepare me to participate in the life of the university as a teacher. The MFA program supports students financially so they don't have to carry other jobs and can focus on writing and teaching. The three-year time period allowed me to work with most of the poets on the faculty--and ASU has a phenomenal faculty, writing with a rich diversity of poetic modes and interests. The practicum program allows each MFA student to work individually with three faculty members for a semester at a time. The time Professors Dubie, Hogue and Ríos spent with me during these practicum sessions, working to develop my writing and talking with me about the art we practice together, was the single most important facet of the program. Also quite valuable was the experience I gained at ASU teaching nine sessions of creative writing workshop and composition. Without this teaching experience, I would have had a much harder time finding work teaching in San Francisco after graduation.
What advice would you have for any aspiring writers?
I encourage aspiring writers to have faith in your ability to improve, be patient and open to criticism, and read as widely as possible. Read from the canon and read what's being published right now, read work in translation to get out of the stifling mindset that what we see before us is all there is, and get involved with publishing if you can. Working as a poetry editor for ASU's nationally recognized literary journal, Hayden's Ferry Review, was an invaluable experience during my last year as an MFA student. Reading and selecting poems for the journal gave me wide exposure to what my peers are writing, and helped me to look at my own work with a more objective perspective. Think about what moves you as a reader, and try to create that empathetic energy as a writer.