Alumni Occupation
Teacher
Alumni Degree
B.A., English
Alumni Photo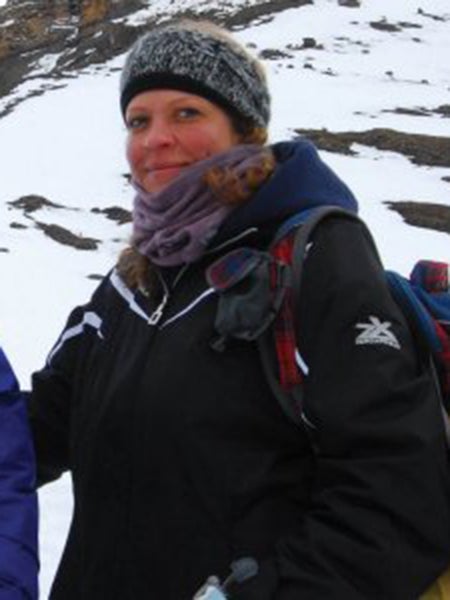 Alumni Interview
Kim Williams '96 B.A. is the "Coolest Teacher in the World," although she may well have been the coldest, too, during her recent trip to Antarctica. Chosen during 2012 as one of two "Coolest Teachers" in the country by the U.S. Green Building Council (USGBC) Center for Green Schools for her sixth-grade classroom's sustainable curriculum in Sacramento, Calif., Williams joined a two-week expedition to Antarctica led by explorer Robert Swan, the first man to walk to both the North and South Poles. There were plenty of "wow" moments – from ice camping to a plunge into the icy polar waters – but these were surpassed by several that underscored the expedition's serious purpose. Swan took the group to an iceberg that was previously a section of the Larsen Ice Shelf.
"It shouldn't have been floating by us," Williams asserted. "It should still be attached to the shelf. It made me think of all the changes I needed to make at home to stop this." Prior to the trip to Antarctica, Williams already was teaching her students about sustainability. She collaborates with Sacramento-area universities to bring science and engineering experts into her classroom, where her students have grown their own algae, made mini-bioreactors and built their own solar cookers. To provide a demonstration for her students of where their food comes from, Williams started a school garden, with the harvest ending up on the school salad bar.
Williams says the polar expedition "energized her as an educator." After her return, she led her class in a "green" audit of their school, which resulted in the institution winning more than $500,000 to update the campus HVAC system and complete the garden area.
While Williams has returned from her journey, parts of it stay with her. One of the most vivid encounters on the Antarctic expedition was a sighting of a mother humpback whale and her baby, with the pair gliding so close Williams could have touched them.
"It was one of those times that made me think, 'we have to protect this place,'" she says.
To read more about fellow alumni and students, check out the College of Liberal Arts and Sciences Magazine.