Alumni Occupation
Associate Vice Chancellor of Student Success and Online Education at University of Arkansas in Little Rock
Alumni Degree
Ph.D. English
Alumni Photo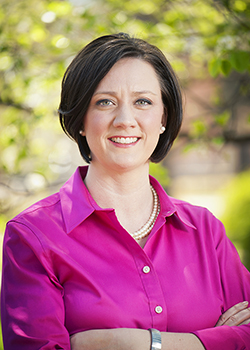 Alumni Interview
Sherry Rankins-Robertson, a 2011 Ph.D. alumna in English, is now the Associate Vice Chancellor of Student Success and Online Education at University of Arkansas in Little Rock.
Why did you choose ASU and your major?
I chose to study at Arizona State University because of the scholars in my field available at ASU, specifically Sharon Crowley, Maureen Googin, Keith Miller, and Duane Roen.
Who were your mentors?
I believe firmly in what one of my graduate students recently said, "it takes a village to raise a composition student," and I think that rings true for doctoral students. The faculty as a whole has provided guidance and mentorship for me along the way throughout my time in the program and for the several years since I have graduated. Duane Roen is my mentor, and his support has been invaluable to my success. Shirley Rose has provided support and guidance to me as a new WPA. Keith Miller has been an exemplar for the life of a scholar. Many of the faculty have championed me along my way.
Did you receive a scholarship while at ASU? What impact did that have on you?
Because I was a full-time, non-tenure track faculty member, I received the tuition waiver that ASU offers to its employees. This was significant (and imperative) in my ability to complete my doctoral work.
How do you feel your degree program prepared you for a strong career/future?
Both my work as a faculty member and as a student were foundational for my career. Prior to coming to ASU, I worked for three years as a full-time faculty member at a two-year college. I was an instructor, then a lecturer for ASU for a total of eight years, so much of the work of being a teacher complimented my doctoral study. Each course I took enhanced my work as a teacher. ASU is the space where I learned about making work visible (Rose), that publishing is the economy of the university (Miller) and that mentoring through both classroom and campus leadership (Roen) are critical to the life of a scholar. I feel indebted to the Department of English for the rigorous challenges and incredibly kind support I received during my time as a student in CLAS.
Do you have any advice for current students at ASU or CLAS?
Spend as much time as you can developing strong relationships with other graduate students in your program and on campus, as these are the friendships that will sustain you throughout the difficult times not only in your job, but also in your life. Another thing I would recommend is go to professional conferences in your field — I have not missed CCCC in seventeen years. It is my academic Christmas. I love the reunion of coming together and remaining a student to my discipline. Find a way to get there; seek out funding from the graduate school and private support by publishers and the professional organizations. It's a treat to read the scholarship and then show up at conference and have access to and dialogue with the superstars of our field. Lastly, I will send forward the advice my dissertation's chair provided to me, "Write at least one page every day," this is how you will get any body of writing completed.
What is your current occupation and what impact did ASU have on that career choice?
The year after I finished my Ph.D., I collaboratively developed ASU's Writers' Studio with Dr. Tiffany and Dr. Andy Bourelle. In the fall of 2012, I accepted a position as the WPA at the University of Arkansas at Little Rock, and a month ago I was appointed as the Associate Vice Chancellor of Student Success and Online Education. It's been a very exciting time. I focused my research and study at ASU in WPA work, so I know that I would not have obtained the WPA position had it not been for the WPA course and mentoring I received. My work on writers' studio provided the foundation for my current position. The letters of support and the guidance I have been provided by my mentors have shaped the career decisions I've made.
How involved with ASU are you now? Do you keep in contact with fellow classmates? Have you been back on campus?
I come back to campus about once a year. I have had the privilege of working with Dr. Neal Lester and Project Humanities during my first year away from campus. Project Humanities showcased the work of one of my former students. Last year I was able to get back to campus for a site visit with my provost to examine successful models of retention and online education. I am delighted to be coming back "home" in the fall of 2015 for FemRhet. I keep in touch with my colleagues and faculty, see them at CCCC, and stay connected on Facebook. I love how ASU engages in social media to keep alumni connected to the university.
What's the most significant change at ASU since your graduation?
I see the innovative efforts ASU makes as the significant changes—specifically the robust, successful ASU Online.