Alumni Degree
B.S. Organizational Communication
Alumni Photo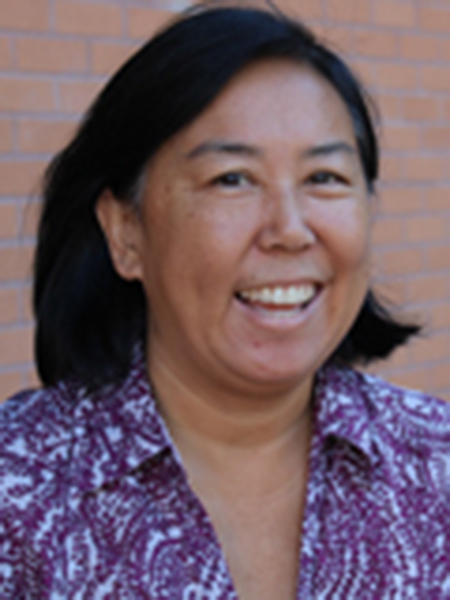 Alumni Interview
Communication alumna Arlene Chin has come full circle by now working to help other students attend ASU as the director of scholarship services. As a first-generation college student, she admittedly chose the wrong major, switched to communication and opened up limitless career opportunities. Read her story.
Why did you choose ASU and your major?
A combination of fate and economics. I grew up in Tempe and was a first generation college student, so it made sense to explore options at ASU. My experiences as an undergrad really shaped my world. Initially, I started my academic career in the wrong major...well, the wrong major for me anyway. After some great conversations with classmates and my academic advisor, I switched to the right major for me. Then, it was as if the clouds parted and the birds began to sing. Learning became a fun, exciting challenge and far less intimidating than it had been.
Who were your mentors?
I've had the good fortune of working with many great people and have had the opportunity to learn from them. One person that continues to teach through example is former Tempe mayor and congressman Harry Mitchell. I've had the opportunity to work with him in many different settings over the years and he continues to impart lessons about life and leadership. He is also a CLAS alumnus, by the way.
How do you feel your degree program prepared you for a strong career/future?
I have a Bachelor of Science degree in organizational communication, and I continue to draw from the knowledge gained through my undergraduate degree program. I learned how strong and effective communication can be a very powerful tool. It can help you build teams, develop strong working relationships and reach across all kinds of borders. Understanding the variety of ways people communicate provides me a better understanding of their overall perspective. These are invaluable tools when you work with people.
What clubs/organizations did you participate in while at ASU? How did these activities shape your experience or choices?
I participated at ASU in student government (ASASU), intramural sports and Greek life. I think these activities absolutely helped to shape my experience at ASU. I spent a great deal of time with and learned from a very diverse group of students, student leaders, influential professional staff, and faculty while at ASU. I continue to be impressed by my former classmates. They are doing amazing work in the world and the foundation of their success was shaped early at ASU. I feel so fortunate to have been able to work with them while we were all learning about the world and about ourselves.
Do you have any advice for current students at ASU or CLAS?
Don't limit yourselves to your current worldview. At ASU, you have the opportunity to do big things. If you have an idea, a dream, a passion…pursue it.
What have you have been doing since graduation? What is your current occupation and what impact did ASU have on that career choice?
I have been lucky enough to have traveled the world for ASU. Almost my whole professional life has been spent in a variety of roles within higher education. So here I am, this first-generation college student with no idea what to major in, and now I am working with students locally, nationally and globally, teaching them about college preparation, admissions, and affordability. I believe that my experience at ASU had a very direct impact on my career choices. I now have the honor of helping students attend ASU as the director of scholarship services.
How involved in are you with the ASU Alumni Association? Do you keep in contact with fellow classmates?
I have volunteered with the ASU Alumni Association. I keep in touch with a fair amount of my classmates. Social media makes it so much easier to keep in touch with my Sun Devil friends who are scattered throughout the world.