Alumni Degree
Ph.D., Biology
Alumni Photo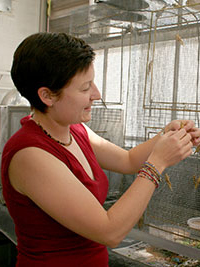 Alumni Interview
Working as a Peace Corps volunteer in Senegal, Arianne Cease witnessed a locust invasion that devastated local farmers. The impact of that experience brought her to ASU where she sculpted doctoral career focused on tackling this long-standing international dilemma.
"My experience at ASU was an incredible journey – from science to foreign travel to developing life-long friendships," she says. "The College of Liberal Arts and Sciences opened many doors and enabled me to pursue my passion… and this is only the beginning."
Cease worked with Jon Harrison, an internationally-known insect physiologist and professor in the School of Life Sciences. His cutting-edge science was her primary motivation for joining ASU, says Cease. But as her research expanded, she gained a second advisor and mentor— Jim Elser, a Regents' Professor and Distinguished Sustainability Scientist.
"Together they made an incredible advising team. Not only that, but being part of the School of Life Sciences allowed me to interact and collaborate with a number of remarkable scientists, writers, staff members, and students," says Cease.
Cease traveled five times to the Inner Mongolia Grassland Ecosystem Research Station in China to conduct research, funded by the National Science Foundation (NSF).
"Field seasons are stories of teamwork, developing life-long friendships, hard work and long hours, unexpected setbacks, and glorious celebrations when everyone's determination pays off," says Cease. "My Chinese collaborators were extremely patient with me as I learned the language… and we all became really good at charades in the meantime."
Field work can have some setbacks, as when Cease discovered that she had contracted tick-borne relapsing fever while working in the Peace Corps in West Africa. Undiagnosed for five years, she found herself frequently exhausted during her first three years of graduate study.
Awards, scholarships and research grants have been numerous during her time at ASU. Cease was named an Achievement Rewards for College Scientists (ARCS) scholar for four years, a P.E.O. Scholar, received the National Science Foundation East Asia and Pacific Summer Institutes Award, a University Graduate Fellowship and named a Distinguished Graduate Student by the ASU Faculty Women's Association. Her published scientific studies have tied locust outbreaks to human activities, such as overgrazed grasslands, and have garnered much interest from scientists and the public. Her work has been featured on BBC World Service, Voice of America and New York Times Green Blog.
Prior to joining ASU, Cease grew up on a ranch in southern Oregon, received a bachelor's degree in zoology from Oregon State University, served as an sustainable agroforestry Peace Corps volunteer in Senegal and worked for two nonprofit organizations focused on sustainability and the environment in Oregon. "My parents have been unwavering in their support throughout my life," says Cease. "From an early age, they truly made me believe that I could do anything I wanted if I worked hard enough for it."
After graduation in 2012, Cease packed up her bags to pursue her studies as a postdoctoral researcher with the University of Sydney. "In Australia, I will continue to study the physiology and ecology of locusts in China, as well as the Australian outback," she says. "My long-term goal is to conduct studies of a closely-related locust species back in Senegal to understand if what we have learned in China can used to help minimize these debilitating outbreaks in Africa."
Photo by Michele St. George