Alumni Degree
Biochemistry, B.S.
Alumni Photo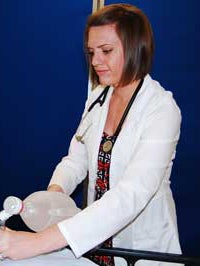 Alumni Interview
Jessica Burns had many demands on her time as an undergraduate at Arizona State University. Already a young mother, she took a full schedule of science courses, volunteered at a hospital, served as a mentor for a foster child and participated in research, among other activities.
It was a perfect preparation for medical school, says Burns, now completing her fourth year of medical school.
"Medical school is incredible," Burns says. "It has challenged me and tested my personal strength many times. ASU coursework prepared me well for the pre-clinical years of medical school and for the MCAT."
"I remember studying for exams and the MCAT in college and thinking those tests were tough. The U.S. Medical Licensing Exams are much more challenging. But they're so rewarding because that knowledge is applied to being able to help care for patients."
She receives a dual degree in May, an MD and a masters in public health. She is finishing her final rotations at the UA Medical School -Phoenix campus, and will spend her last two months at Maricopa Medical Center working in the surgical intensive care unit and in anesthesiology. She just found out that she has been matched into an orthopedic surgery residency at Banner Good Samaritan Hospital in Phoenix.
Burns attended one semester of college in another state before she had her son, then stopped attending college so she could work and care for her child. Later on, she worked as a clinical research coordinator, obtaining medical histories, drawing blood, taking vitals and working closely with physicians. The experience confirmed her early ambition to become a physician.
Years later when she enrolled at ASU, she majored in biochemistry in ASU's School of Life Sciences, working hard and focusing on her grades. She registered at the pre-health advising office, where an adviser read over her personal statement, counseled her on letters of recommendation and recommended resources for the MCAT. Her pathway wasn't easy, but she never doubted it was the right choice for her.
"Life throws many curveballs. But I was still able to achieve my goals, despite having a child at a young age and continuing my family during medical school. (Burns had a second child.)
"I did well in my science courses, but I had gaps in my education due to the early start to my family. It helped to have an excellent MCAT to back up my science grades in proving that I could handle the demands of medical school."
While in medical school, she made lifelong friends. She also sang in an a capella group, participated in clubs that improve clinical skills, volunteered with underserved populations and advocated for political changes.
Her only regret is that she didn't spend more time doing paid medical work and research as an undergraduate.
"I volunteered at a hospital for two years, but paid experience gives you better opportunities for learning. I would have taken time to acquire training to be an emergency medicine scribe or technician, a medical assistant or paramedic.
"Also, I spent one semester doing research, but I would recommend spending at least two years. Research is helpful for admissions purposes and is such an integral part of medical training. It's a good foundation."
To read more:
ASU undergrads find success in entering medical school
ASU grads who are now physicians share their experiences, advice