Alumni Occupation
Director of the Desert Caballeros Western Museum (DCWM)
Alumni Degree
M.A., History
Alumni Photo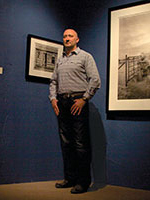 Alumni Interview
While circumstances and fate buffet many a career, W. James Burns, who became director of the Desert Caballeros Western Museum (DCWM) in Wickenburg in 2010, stresses that it was choice, not chance, that encouraged him to enter the museum profession.
"I began working in museums when I was only 19," he said. "I always say I entered the museum profession by design." The upstate New York native said he was drawn to Arizona in part because of his great-uncle's collection of vintage (1950s and '60s era) Arizona Highway magazines. While obtaining his bachelor's in history at the University of Arizona, Burns was introduced to museum work through positions at the Arizona State Museum, an internship with the Center for Creative Photography in Tucson and a paid position at the Pueblo Grande Museum in Phoenix. He also worked for a time at the Phoenix Art Museum.
By the time Burns settled on ASU to pursue an M.A. in history in the College of Liberal Arts and Sciences, he was sure of his path, studying historical administration and museum studies as well as 20th century history of the American West to augment knowledge gained on the job.
Burns credits a quartet of ASU faculty with helping him become the professional he is today. "Both Dr. Bradford Luckingham and Dr. Robert Trennert at ASU fueled my passion for history and helped shape my research interests in societal and environmental issues," recalled Burns. "At the same time, Dr. Jannelle Warren-Findley and Dr. Noel Stowe's exacting research and writing standards provided me with a foundation that has served me well in every museum position." Ironically, after focusing on Arizona-based museum positions and writing his master's thesis on the Museum of Northern Arizona, Burns headed east to deepen his knowledge of Western history and art, by joining the staff of the Booth Western Art Museum in Georgia, which offers the nation's largest collection of contemporary Western art.
"I started at the Booth as director of curatorial services just six weeks after it was founded," he said. "My first day, we looked at blueprints for the building. I saw them through three years of building and four years beyond that."
After his eastern sojourn, which also encompassed a one-year appointment as founding curator of the Cypress Sawmill Museum in Louisiana, Burns returned to Arizona to work at the Tempe Historical Museum in 2007. He took the helm at DCWM after several tough years for the institution, developing a strategic plan and identifying new ways for the museum to meet the needs of 21st century audiences. "Our goal is to show how the mythic West of the 19th century evolves into the 21st century in ways that blur boundaries, defy stereotypes and trigger intellectual and emotional responses," said Burns. Burns noted that his career, which has been divided between stints at art, history and anthropological museums, had derived strength from its diversity. "There are really more differences than similarities between the museums that I have worked for throughout my career," he said. "I think that's an advantage in some sense. These days, museum professionals have to be a jack of all trades and a master of none."
By Oriana Parker, a Scottsdale-based arts writer. This profile originally appeared in ASU Magazine. Photo provided by W. James Burns.