Alumni Occupation
Head of Durham Law School
Alumni Degree
M.A., Political Science
Alumni Photo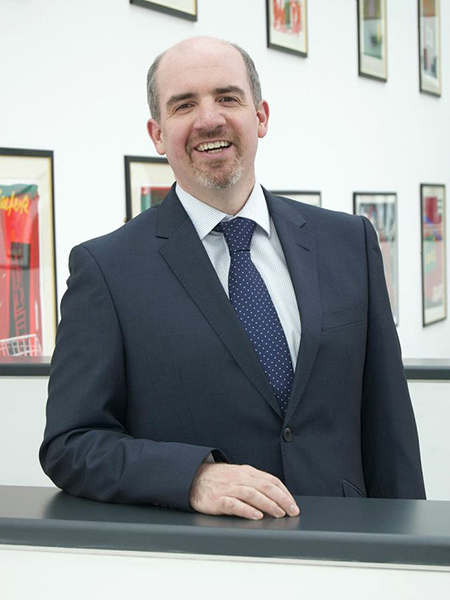 Alumni Interview
Alumnus Thom Brooks, published author and a reader at law at Durham University Law School, points to his mentors, the innovative research and inspirational teaching at Arizona State University as offering a major turning point in his career development.
"My time at ASU was fundamental to my future career in academia. I was introduced to research topics that became a focus for my doctoral studies and later published in a book - now in its second edition - this year."
Why did you come to ASU?
I'm inspired by innovative research and inspirational teaching - both of which I found at ASU.
I came to ASU in 1997 to pursue a M.A. in political science. I had never travelled so far from my home town outside New Haven, Connecticut and excited to live in such a different and beautiful part of the country. I was primarily attracted by the reputation in political theory and also Asian studies in addition to the sunshine.
Why did you choose political science?
I studied political science for my undergraduate degree and thoroughly researched graduate programs as I was keen to pursue advanced studies. I was not certain about further studies towards a Ph.D. prior to coming to ASU although this became more clear to me during my M.A. studies.
Who were your mentors?
I enjoyed several mentors. Joy Chaudhuri served as my dissertation advisor and nurtured my longstanding interest in Indian philosophy and politics. Avital Simhony played a pivotal role in my development by introducing me to the work of Hegel and the British Idealists, research interests at the center for much of my research today. We remain in close contact all these years later. Rick Herrera was an invaluable fountain of wisdom in helping me find my feet with teaching for the first time. William (Jack) Crittenden was enormously helpful throughout my time at ASU, in addition to introducing me to the fascinating work of Plato.
How do you feel your degree program prepared you for a strong career/future?
My degree program prepared me well for a promising future career. One of many highlights was a special weekly workshop on academia - from publishing advice and guidance on creating a syllabus to insights into pursuing and developing a future career in the profession - which was exactly what I was looking to do.
Do you have any advice for others coming to ASU or CLAS?
I highly recommend study at ASU. It marked a turning point in my career development with the lessons learned still benefiting many years later and surely more to come.
Tell us a bit about your current position.
After ASU, I studied for a Ph.D. and moved to the United Kingdom (UK) where I held a permanent post as a lecturer in politics at Newcastle University for eight years before moving to my current position: Reader in Law at Durham University's Law School, one of the leading UK law schools, this past December. My time at ASU well prepared me for this exciting transition. In addition to providing me with the research and teaching skills required, my first taste of legal philosophy was as a teaching assistant for Joy Chaudhuri's Legal Theory course. I now teach Constitutional Law and Criminal Law in addition to Jurisprudence and Political Philosophy. I've also become an Academician of the Academy of Social Sciences, a Fellow of the Royal Historical Society and a Fellow of the Royal Society of Arts.
Where are you headed next?
My next plans are to complete my next book projects. I've recently published a book, Punishment (2012), and a second edition of my Hegel's Political Philosophy (2013). My next projects are an edited book, Rawls's Political Liberalism (co-edited with Martha C. Nussbaum), and The Oxford Handbook of Global Justice (co-edited with Thomas Pogge) both forthcoming in 2014. I'm also writing a monograph tentatively entitled Beyond Retribution: The Unified Theory of Punishment that I hope to complete by the end of next year.
Read more about Thom Brooks on ASU Now.