Alumni Degree
Zoology (now called Biological Sciences)
Alumni Photo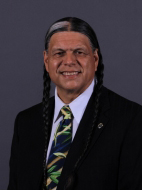 Alumni Interview
After leaving ASU, Dr. David Baines, a member of the Tlingit and Tsimshian tribes of Alaska, became the first American Indian student at Mayo Medical School. He was a faculty member of the Alaska Family Medicine Residency in Alaska and a clinical associate professor at the University of Washington before retiring in April 2015.
Why did you choose ASU and your major?
I went to high school in Phoenix and had no intention of going to college. I wanted to be a Marine and see the world, but in 1972 they weren't hiring, so I took a job in our tribal sawmill in Metlakatla, Alaska where I grew up.
While working there I was involved in a serious accident that should have killed me, but miraculously didn't. My legs, especially the left one, were crushed. There was no orthopedist in southeast Alaska, so they forklifted me into a plane and sent me to Seattle. Three and half hours after the injury, I got to the hospital.
After the surgery, I knew my dream to be a Marine was gone, so I went to stay with my mom in Glendale, Arizona. I quickly got bored, so I started going with her to classes at Glendale Community College. It was fun. I took nine career tests – seven of which were in medicine, so I took it as a sign and transferred to ASU.
As soon as I thought about going to med school I knew I wanted to do Family Medicine and return to my reservation. We had no health care other than visiting public health nurses to give us immunizations. I had never seen an American Indian doctor but that did not make me hesitate.
Did you receive a scholarship while at ASU? What impact did that have on you?
I got a 4.0 gpa the first semester and got called into the Dean's Office.
He said "You did pretty well this semester".
I responded, "I did OK".
He said "We have a full-ride academic scholarship we would like to offer you."
I said "Let me think about it...OK I'll take it.
I worked summers to make sure I made it out of college with no debt. Since I was going to work in an underserved area, this was a big help.
Do you have any advice for current students?
Work hard and do your best. Work hard first but take time to do things that help you relax and rejuvenate yourself. Every day you should exercise your mind, your body and your spirit.
Another bit of wisdom from my elders: Learn to accept delayed gratification. Much of your work now will not pay off for years to come but it will pay off someday. Don't expect instant results. Almost nothing good comes easy.
What you have been doing since graduating? What is your current occupation and what impact did ASU have on that career choice?
I went to medical school at the Mayo Clinic. After my internship in Los Angeles, I finished my family medicine training in Cheyenne, Wyoming.
For the next 21 years I worked in Family Practice on the Couer d'Alene Indian Reservation in Northern Idaho, the Nez Perce Tribe in Idaho, a community health center for American Indians and Alaska Natives in Seattle, the Unalaska/Dutch Harbor community health center. I also spent 3 years as faculty at the Alaska Family Medicine Residency.
I finally had to have my left leg amputated from the injuries I sustained in the sawmill, so I worked part time until retiring in April.
I saw well over half a million patients and delivered over a thousand babies. I am most proud of how much I've been able to accomplish despite having to deal with numerous surgeries, terrible chronic pain and being disabled. I've been given many gifts, but the best gift was being able to be a caring healer in so many people's lives.
ASU believed in me before I did, they gave me a full ride academic scholarship. This gave me so much confidence to continue on the path I took.
How involved with ASU are you now?
I am a Gold Lifetime Alum and, before retiring, ASU was one of my top three places to donate. ASU gave me so much and it felt good to give back. My Alaska License plate says SN DVL.
My kids – 12, 9 and 4 – are avid Sun Devil fans even though we live in Alaska. I have managed to take them to several football games and we have lots of Sun Devil gear.