Alumni Degree
B.A. Political Science
Alumni Photo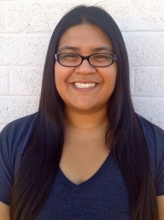 Alumni Interview
Alum Jessica Aguilar is the first in her family to go to ASU. This 2009-2010 Devils' Advocate of the Year completed her bachelor's in political science with a sociology minor and obtained a civic education certificate. Her goal in life? To help inspire voters, especially in the age group 18-24, to get out, get involved and vote!
Why did you come to ASU?
Choosing to attend ASU was an easy decision for me. My parents raised me to be a Sun Devil from the start! Aside from my upbringing, I also chose ASU because it offered a lot of different programs, student organizations, and always had events going on (on or around the Tempe campus).
What were your most significant challenges as a first-generation college student?

Being a first-generation college student had a variety of different obstacles. One of the main issues my family and I tackled together was funding! During my senior year of high school, the financial aid office and I were always in constant contact to make sure all of my documents were in order and I also did a lot of grant and scholarship research. By the time I started my freshman year at ASU, I became an expert on websites like Fastweb and was able to apply for many scholarships (and was awarded many of those scholarships: Hispanic Scholarship Fund Recipient, Hispanic Women's Corporation Scholar, Hispanic Women's Corporation Scholar, and Arizona State University College of Liberal Arts and Sciences First Generation Scholar).
Why did you choose political science?
I've wanted to study political science since I was an 8th grade at Rhodes Jr. High. I loved studying civics and civic participation. When I was at Dobson High School, I participated in the "We the People" program and that introduced me a lot of political philosophy, history, case law, and other political issues that I found interesting. When I started studying it at ASU, I enjoyed the subject more and more with every class. I came in just wanting to study American government but soon enough, I became really intrigued my comparative politics and political theory (which were two subjects that I first didn't care for—glad that opinion changed when I started at ASU).
Who were your mentors?
During my experience at ASU, I had many wonderful ASU staff and faculty who inspired me to be successful. Professor Michael Mitchell (comparative politics) and Professor Richard Fey (sociology) were great mentors for me throughout my program. Both provided me with great advice when it came to my bachelors program and my future. They are both incredible instructors that I always recommend to potential students of political science and sociology. Sarah Gerkin Fanning (former Club Advisor for Devils' Advocates) is another great mentor that I continue to keep in contact with post-ASU life. She always inspired me to be professional and represent ASU to the best of my ability. She was always someone I could go to if I had any questions about school or life in general.
What inspires you?
Being the first college graduate in my family inspires me to always do my best in everything that I attempt to do in my life. I always try to set an example for my younger siblings (especially my younger brother) and hope that pursue college degrees themselves despite any potential obstacles that are thrown their way.
How do you feel your degree program prepared you for a strong career/future?
My program prepared me to be more knowledgeable in the study of politics as well as being an active citizen. I am a volunteer judge for the Center for Civic Education-We the People District/State competitions. A lot of the students who compete at these competitions discuss several topics and issues that are taught at the university level. My education allows me to provide feedback that points them in a direction of certain areas of government they may not have thought about incorporating into their answer before.
My education also encouraged me to be more active in my government. I not only did I take courses on Arizona Politics and Campaigns and Elections, I also completed an internship with Former Congressman Harry Mitchell in 2008. Because of those courses and internship, I volunteer in every election for candidates running for office. The experience is incredible and has taught me the importance of being active in your community.
You were involved with the Devils' Advocates and the Student Admissions and Relations Team (START). How did these organizations shape your experience or choices?
Both of these student organizations were such a tremendous part of my college experience. Through these two great student organizations I met some of the best people at ASU and student leaders. Many of the individuals I met through both groups are some of my closest friends and played a major part in my college experience. Both organizations allowed me to share my love for ASU to prospective students and their families. I could pass along a student's prospective of why ASU is THE best place to earn your college education. I really enjoyed helping students and their families and providing them information about the university. Being able to paint a realistic picture of what college life is like to these students was something that I enjoyed so much that it influenced what I wanted to do after I graduated. Instead of pursuing law school, I decided I wanted to work in higher education.
Do you have any advice for others coming to ASU or CLAS?
My advice for prospective and current ASU students and CLAS students is to get involved, get to know your instructors, and don't be afraid to try something new. I would not have had the opportunities that I had without being a little bit fearless and putting myself out there. Because ASU offers so much to every and any student, I guarantee you will find something you love about the university.
Please tell me a bit about the job you are doing now?
I currently work as a graduate advisor for Walden University. I've been with Walden for three years and I love it. I work with students in our College of Social and Behavioral Sciences. The best part about my job is helping students learn more about our programs and trying to find which degree program would be a good fit for them and their goals. I found this job through LinkedIn! The location of the university is very close to ASU's Tempe campus. From my very first day, it felt like home!
Where are you headed next?
My plans are to start a master's program in higher education while working full time. I am actively involved in the ASU Young Alumni Council as a general member and Council Secretary, I am also a volunteer for the Center for Civic Education (We the People) and plan on helping out schools in the district with the program. My life is pretty busy but I wouldn't have it any other way.