Alumni Occupation
Deputy Special Presidential Envoy for Hostage Affairs
Alumni Degree
BA History, Political Science, Russian
Alumni Photo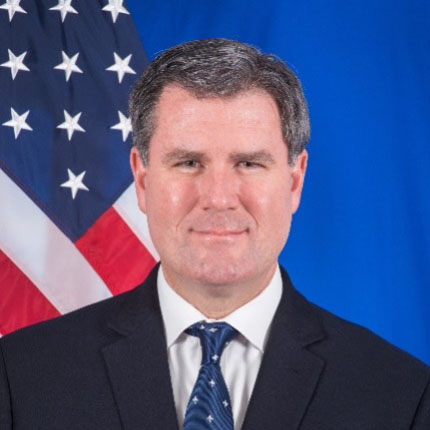 Alumni Intro
Steven Gillen is Deputy Special Presidential Envoy for Hostage Affairs. Formerly he was Deputy Assistant Secretary of State responsible for Near Eastern Affairs, International Labor Affairs, and Security and Human Rights in the Bureau of Democracy, Human Rights, and Labor (DRL) at the United States Department of State.
A career Foreign Service Officer, Mr. Gillen previously served as Director of DRL's Office of Near Eastern Affairs. Prior to joining DRL, Mr. Gillen served in Iraq as Deputy Consul General at U.S. Consulate General Erbil. He also served Washington assignments in the Office of Iraq Affairs and the Office of Levant Affairs in the Department's Bureau of Near Eastern Affairs. His other overseas assignments include U.S. Embassies in Minsk, Baghdad, and Sarajevo. He previously served as an advisor at U.S. Embassy Skopje during the 1999 Kosovo war and refugee crisis.
In 2012, Mr. Gillen received the State Department's Warren Christopher Award for Outstanding Achievement in Global Affairs in recognition of his leadership in facilitating refugee returns and promoting human rights and interethnic reconciliation in Bosnia-Herzegovina. He also received numerous Superior Honor Awards and Meritorious Honor Awards, including those for his contributions to policy planning during U.S.-led diplomatic efforts to end the conflict in Syria, for promoting human rights, and for assisting American citizens in Iraq.
Mr. Gillen earned a Master of Science in Foreign Service and a Master of Arts in National Security Studies from the Edmund A. Walsh School of Foreign Service at Georgetown University. He also held J. William Fulbright and National Security Education Program fellowships at the Law Faculty of the University of Saints Cyril and Methodius in North Macedonia. He earned Bachelor of Arts degrees in Political Science, History, and Russian from Arizona State University.